Fact File
Fact File: Jason Scott Santos
Posted:
Updated: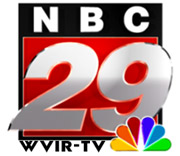 May 04, 2006
Fire breaks out at Charlottesville Christ Church on Fifth Street around 11:30 p.m.
May 05, 2006
Investigators find blood at the scene and detectives track down 24-year-old Jason Scott Santos at the University of Virginia Medical Center. He admits to starting the fire.


Santos is arrested for breaking and entering.
May 08, 2006
Church of Christ members reunite for service at Buford Middle School.
May 11, 2006
NBC29 interviews Santos in jail where he shares what happened that night. He says he shattered a window to get into the church to make a hamburger. The next thing he knew, a fire started.

He says, "No, I didn't mean to burn it down. It was not me...I'm very sorry and I regret that very much...It wouldn't have happened if I was not doing drugs."


Santos is charged with breaking and entering, petty larceny and intent to commit a felony. He is scheduled for a court appearance in June. Church members say they forgive and are praying for Santos.
May 18, 2006
Church and city leaders gather to raise $10,000 to cover an insurance deductible for the church. Church damage is assessed at $850,000.
July 20, 2006
Santos faces 10 years in jail if convicted of intent to commit a felony charge.
August 17, 2006
Santos waives right to preliminary hearing. Breaking and entering and intent to commit a felony charges dismissed.


Commonwealth's attorney says Santos could face 40 years in prison.
August 21, 2006
Santos is indicted on arson charge.
December 20, 2006
Santos pleads guilty. He is scheduled for sentencing in March.