Family Speaks Out about Shooting - 01/25/2007
Posted:
Updated: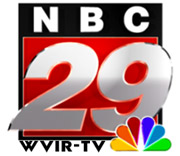 Reported by David Douglas
January 25, 2007
The family of Allen Cochran, who was fatally shot Wednesday night, spoke to NBC29. They say they have been kept in the dark and most of what they know about the incident they learned from the news.
Cochran's family is grieving Thursday night but also they are mad because they did not know about their loss until after noon Thursday.
As police try to piece together what happened Wednesday night, Cochran's family has questions of their own. Cochran's stepfather says it was crazy it took an NBC29 interview with Cochran's mother at noon that anyone would confirm that their 16-year-old son was dead. A state trooper called the family ten minutes after the interview aired, according to Cochran's stepfather.
As they wait for more information, Cochran's aunt wants people to know how they feel. "We're going to miss him very much and we love him," said Lori Cochran.
The family says that the allegations Cochran kidnapped his girlfriend are untrue.