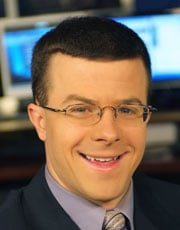 Clayton Stiver is the Thursday/Friday Noon Show and Weekend Meteorologist. He has been with the NBC29 Weather Team since October 2006.
Clayton comes from Nazareth, PA, home of the legendary Andretti racing family and Martin Guitars. He has a Bachelor of Science Degree in Geosciences with a Concentration in Meteorology from Mississippi State and a Bachelor of Arts Degree in Journalism with a Minor in Geography from Penn State (WE ARE!!! PENN STATE!!!) He is also a member of the American Meteorological Society and the National Weather Association and holds TV seals of approval from both organizations for meeting established criteria for scientific competence and effective communication skills in his weathercasts.
Clayton has had a strong passion for weather ever since the 2nd grade. Growing up in the Northeast, he often experienced historic Nor'easter snowstorms. His most memorable would be the blizzard of '96 which dumped 27 inches of snow in his backyard.
Clayton loves telling people about the weather and he feels there's no better way to do this than working at a TV news station. Before coming to NBC29, he had the pleasure of serving as chief forecaster for WEIU-TV PBS51 in Charleston, IL during the summer of 2006. In 2005, Clayton interned in the weather department at WCAU-TV NBC10 in Philadelphia. His mentor there was chief meteorologist Glenn "Hurricane" Schwartz. While at NBC10, Clayton conducted research on forecasting high temperatures.
When he isn't tracking the weather, he enjoys playing his trombone, skiing, and watching Penn State Football. He is proud to say he was a member of the Penn State Blue Band and has met legendary film composer John Williams.
---
FUN FACTS: Clayton
Position: Meteorologist

Year Hired: October 2006

First TV Appearance: May 2006 at WEIU-TV in Charleston, IL

Favorite Story: I enjoy forecasting/covering winter storms the most

Dream Job: Working as a TV Meteorologist somewhere in Colorado, Utah, Vermont, New Hampshire, or Maine. Can you guess why?

Most rewarding part of your job: Knowing you're helping people plan their day, everyday

Favorite TV show: Those VH1 I Love the 70's, 80's and 90's shows

Why I'm a TV Meteorologist: It gives me the perfect opportunity to express my strong passion for the science of meteorology

Hidden Talent: I'm a skier, whitewater kayaker, and trombone player

Alma Mater: Penn State, Mississippi State

Hometown: Nazareth, PA...Home of the greatest acoustic guitar ever made--Martin, and the best Indy race car drivers ever--Mario and Michael Andretti

Hobbies: skiing, whitewater kayaking, biking, hiking, camping, trombone playing

Favorite Food: Cheeseburgers "medium rare with Muenster would be nice" All you Jimmy Buffet fans should get that one

Favorite Sports Team: All Philadelphia teams, Penn State Nittany Lions Football

Favorite Musician: John Williams

Favorite Song: "Jump" by Van Halen

Favorite Vacation Spot: Whistler/Blackcomb, British Columbia, Canada