Nonprofits in Charlottesville Area Receive $18,000 in Grants from United Bank
Posted:
Updated: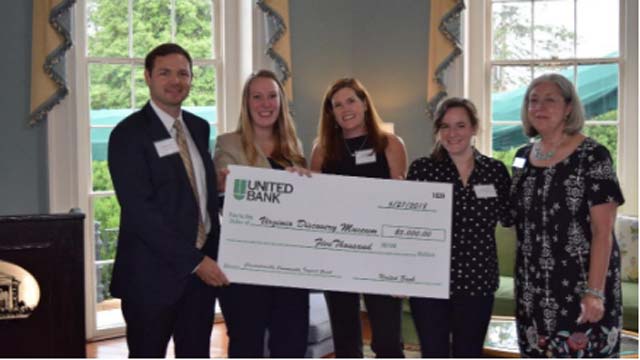 United Bank awarded grants to nonprofits on July 13
Press Release from United Bank:
Charlottesville, Va. — On June 27, 2018, United Bank awarded $18,000 in community impact grants to three Charlottesville-area nonprofits - Piedmont Virginia Community College's Network2Work program, Virginia Discovery Museum and Jefferson Area CHiP. United Bank representatives presented the checks to these organizations at the bank's annual Celebration of Community Service at Farmington Country Club. Forty people representing 18 different nonprofits attended the reception, which honored Charlottesville and Central Virginia nonprofits for their dedication to the community.
"This initiative gave United Bank the opportunity to further deepen our impact in the Charlottesville community beyond providing bank services," said Robert Wood, Charlottesville market president. "The competitive grant program allowed us to identify programs or projects in alignment with the bank's community focus areas that could benefit greatly from grant funding."
The $10,000 grant provided to Piedmont Virginia Community College (PVCC) will support the Network2Work program that connects job seekers to the skills and resources they need to become valued employees and helps employers find the quality employees they need for their companies. The program is a partnership between PVCC and the Charlottesville Regional Chamber of Commerce.
"We are fortunate to have in our community quality employers, motivated job-seekers and generous donors, like United Bank," said Ridge Schuyler, PVCC dean of community self-sufficiency programs. "Together, we can address the sad fact that nearly one out of every five families in our region (17%) don't earn enough income to meet their basic needs and the costs associated with working, such as childcare and transportation. With the support provided by United Bank, we can connect those families with jobs that allow them to reach their potential."
The $5,000 Virginia Discovery Museum grant will support the Sponsored Admissions Program, which provides free admission and use of the museum to its partner organizations that work with families and children, ensuring that local children have access to educational opportunities and a safe environment in which to explore, create and imagine, regardless of their ability to pay.
The $3,000 Jefferson Area CHiP grant will support its Health Improvement Program, which partners with families to create nurturing home environments and promote the health, well-being and school readiness of local children ages 0-6. CHIP supports transformational change through a neighborhood-based home visiting team, to reach high-need residents of Charlottesville's most challenged and under-resourced neighborhoods.
Every year, United supports hundreds of organizations in the communities it serves, through sponsorships, donations, volunteerism, investments and responsive banking services.
This was the first such grant program created and launched throughout the bank's footprint. To be eligible, organizations had to serve individuals within the City of Charlottesville or Albemarle County and demonstrate a primary mission or project focused on developing affordable housing for low- to moderate-income individuals or families; providing services to low- to moderate-income individuals or families; supporting small business; or revitalizing or stabilizing low- to moderate- or distressed communities through job retention or creation.