Player-coach bond may have saved lives in Thai cave ordeal
Posted:
Updated: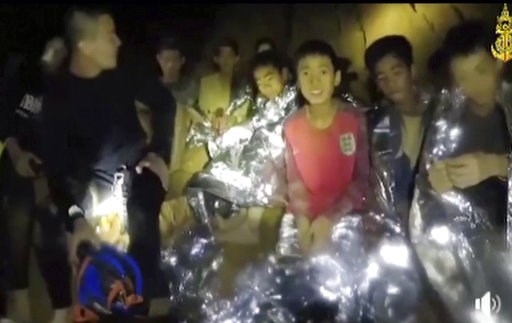 (Thai Navy Seal via AP, File). FILE - In this July 3, 2018, file image taken from video provided by the Thai Navy Seal, Thai boys are with Navy SEALs inside a cave in Mae Sai, northern Thailand. The day-to-day pearls of wisdom imparted by coaches to pl...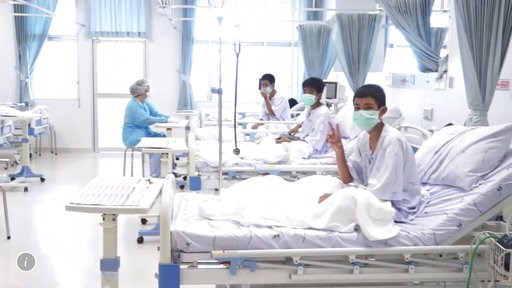 (Thailand Government Spokesman Bureau via AP). In this image made from video, released by the Thailand Government Spokesman Bureau, three of the 12 boys are seen recovering in their hospital beds after being rescued along with their coach from a floode...
A Republican Arizona state Senate candidate is shocking gun control advocates by sharing details about shooting and killing his mother in apparent self-defense more than 50 years ago.

Full Story

A Republican Arizona state Senate candidate is shocking gun control advocates by sharing details about shooting and killing his mother in apparent self-defense more than 50 years ago.

Full Story

MGM Resorts International has sued hundreds of victims of the deadliest mass shooting in modern U.S. history in a bid to avoid liability for the gunfire that rained down from its Mandalay Bay casino-resort in Las...

Full Story

MGM Resorts International has sued hundreds of victims of the deadliest mass shooting in modern U.S. history in a bid to avoid liability for the gunfire that rained down from its Mandalay Bay casino-resort in Las Vegas.

Full Story

Federal immigration authorities say a suspected serial rapist who is charged with posing as a Northern California ride-sharing driver to prey on his victims was living in the country illegally.

Full Story

Federal immigration authorities say a suspected serial rapist who is charged with posing as a Northern California ride-sharing driver to prey on his victims was living in the country illegally.

Full Story
AP National News Video

More>>

Hawaii officials say an explosion caused by lava oozing into the ocean sent molten rock crashing through the roof of a tour boat off the Big Island, injuring 23 people

Full Story

Hawaii officials say an explosion caused by lava oozing into the ocean sent molten rock crashing through the roof of a tour boat off the Big Island, injuring 23 people

Full Story

Key members of Congress, including Republicans, are criticizing President Donald Trump's performance at a joint press conference with Russia President Vladimir Putin as "bizarre," "shameful" and a "missed opportunity" to stand up to Russia

Full Story

Key members of Congress, including Republicans, are criticizing President Donald Trump's performance at a joint press conference with Russia President Vladimir Putin as "bizarre," "shameful" and a "missed opportunity" to stand up to Russia

Full Story

Twenty current and former tenants of a New York City building owned by the Kushner Cos. allege it harassed them with construction hazards, apartment intrusions and rent hikes while trying to force them out to make way for high-paying condo buyers.

Full Story

Twenty current and former tenants of a New York City building owned by the Kushner Cos. allege it harassed them with construction hazards, apartment intrusions and rent hikes while trying to force them out to make way for high-paying condo buyers.

Full Story

President Donald Trump openly questions his own intelligence agencies' conclusions that Moscow was to blame for 2016 election interference.

Full Story

President Donald Trump openly questions his own intelligence agencies' conclusions that Moscow was to blame for 2016 election interference.

Full Story

President Donald Trump openly questions his own intelligence agencies' conclusions that Moscow was to blame for 2016 election interference.

Full Story

President Donald Trump openly questions his own intelligence agencies' conclusions that Moscow was to blame for 2016 election interference.

Full Story

President Donald Trump has declared the summit with Russia's Vladimir Putin is off to a "very, very good start for everybody."

Full Story

President Donald Trump has declared the summit with Russia's Vladimir Putin is off to a "very, very good start for everybody."

Full Story

Banging, drilling, dust, rats: Kushner Cos. tenants say relentless construction was used to push them out for luxury condo buyers

Full Story

Banging, drilling, dust, rats: Kushner Cos. tenants say relentless construction was used to push them out for luxury condo buyers

Full Story

Charges against 12 Russian military intelligence officers for U.S. election hacking undermine denials by WikiLeaks founder Julian Assange that the Russian government was the source of stolen Democratic emails published by the anti-secrecy organization

Full Story

Charges against 12 Russian military intelligence officers for U.S. election hacking undermine denials by WikiLeaks founder Julian Assange that the Russian government was the source of stolen Democratic emails published by the anti-secrecy organization

Full Story