Grant Awarded to Scottsville Elementary School
Posted:
Updated: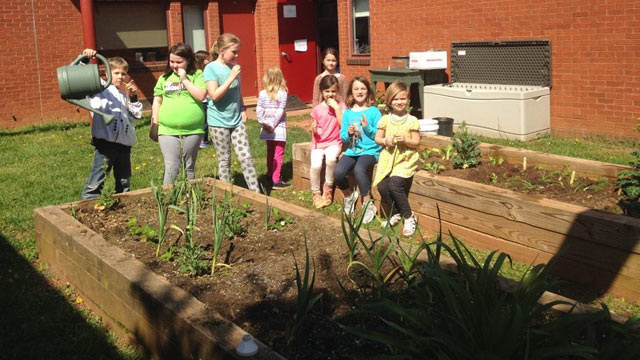 Garden at Scottsville Elementary School (Photo courtesy keepvirginiabeautiful.org)
ALBEMARLE COUNTY, Va. (WVIR) -
A school in Albemarle County is celebrating a grant that recognizes it for its achievements in community beautification.
The grant is part of Keep Virginia Beautiful and its efforts in awarding 30 grants ranging from $500 to $1,000.
Scottsville Elementary School received a $1,000 grant in the category of community beautification. The money will be used to add new gardens to the school.
Right now, it only has six garden beds.
---
To honor our commitment to the commonwealth, Keep Virginia Beautiful (KVB) announced its "30 Grants in Thirty Days" recipients for 2018 each day in the month of June.
This year, KVB awarded 30 grants in the amounts of $500 to $1,000. These grants were given to schools, parks, counties and towns, environmental groups, associations, and Keep America Beautiful affiliates in four different categories: Litter Prevention, Recycling, Cigarette Litter Prevention, and Community Beautification.
Since 2011, Keep Virginia Beautiful has provided $203,000 for 260 different projects throughout the state. We appreciate the generosity of our 2018 partners at Altria and Keep America Beautiful.
And here they are:
Town of Kilmarnock/Town Centre Park
York County Beautification Committee
George Mason Elementary School
State Fair of Virginia/Meadow Event Park
Keep Suffolk Beautiful
askHRgreen.org
Scottsville Elementary School
Randolph-Macon College Student Government Assoc.
Northumberland Assn. for Progressive Stewardship
The Town of Purcellville
Center for Natural Capital
Lewis Ginter Botanical Garden
Town Of Big Stone Gap Parks and Recreation
The Augusta Garden Club
Petersburg Battlefields Foundation
Friends of Kiptopeke State Park
City of Lexington
Habitat For Humanity of Winchester-Frederick-Clarke
Activities Committee at DEQ Valley Regional Office
SCRAP RVA
King George County
Girl Scouts of the Colonial Coast
Heart of Virginia Council, BSA
Friends of Norfolk's Environment (FONE)
Friends of the Blue Ridge Parkway
TWP-The Youth Movement
The Montpelier Foundation
Virginia Clean Cities
County of Prince George
Keep Manassas Beautiful