Kids Get Free Tours this Summer at James Madison's Montpelier
Posted:
Updated: Jul 12, 2018 08:40 AM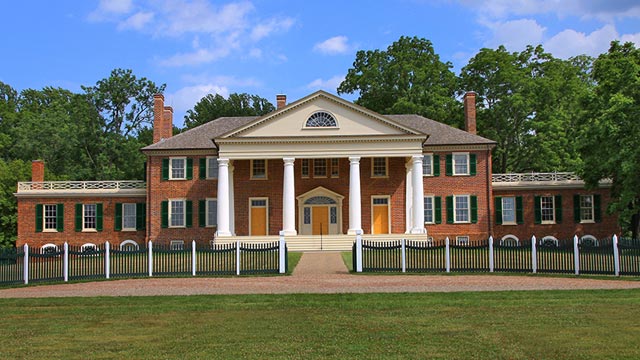 Montpelier (Photo courtesy Virginia.org)
Orange, VA– James Madison's Montpelier will be offering free tours this summer to all kids ages 14 and under through August 31. Children must be accompanied by a paying adult.
The free tours and family-friendly activities make for an affordable and enriching summer experience available to the public any day of the week. Montpelier offers "Discovering Montpelier: A Family Friendly Tour," an interactive tour for families and children that involves discovering artifacts and documents, participating in activities, and touring the House and its surroundings. Other daily house tours offered are the Signature Tour, Madison and the Constitution, and Dolley Madison & the Women of Montpelier.
Included in admission is access to Montpelier's exhibition, The Mere Distinction of Colour. This award-winning, multimedia exhibition gives visitors the opportunity to hear the stories of those enslaved at Montpelier told by their living descendants, and explore how the legacy of slavery impacts today's conversations about race, identity, and human rights. Also included in admission is the "Montpelier's Enslaved Community" walking tour. Learn about the individual lives of many of Montpelier's enslaved community.
The archaeology lab is free and open to the public every day, and children are invited to explore the drawers of artifacts, use the touch screen to understand how archaeologists work, and "dig" for artifacts. Archaeology also will host monthly lab and dig site tours for $10/adults, $4/kids; registration is required. Other free tours offered this summer are the Journey from Slavery to Freedom and the Historic Landscape.
Mr. Madison will be "at home" and receiving guests in the House several Saturdays throughout the summer. Visitors are welcome to greet him and talk to him on topics of interest.
Montpelier's 8+ miles of walking trails - great for hikers of all ages and skill levels - are free and open to the public, and dogs on leashes are welcome.
The Gilmore Cabin and 1910 Train Depot are open daily and are self-guided. The Gilmore Cabin is staffed on Saturday and Sunday. Learn about life on a freedman's farm.
Enjoy award-winning barbeque, specialty sandwiches, and a kids' menu at the Exchange Cafe, or bring a picnic and choose a shady spot anywhere around Montpelier's 2,650 acres. The David M. Rubenstein Center also houses two galleries and a Museum Shop.
To learn more about any of these activities, visit montpelier.org or call 540-672-2728 x141.
WHAT: Summer Activities at Montpelier: Kids Free, Trails, Archaeology, and More
WHEN: July 5-August 31, 2018
WHERE: James Madison's Montpelier, 11350 Constitution Highway, Montpelier Station, VA 22957