UVA Pharmacists Warn of Using Prescriptions Past Expiration Date
Posted:
Updated: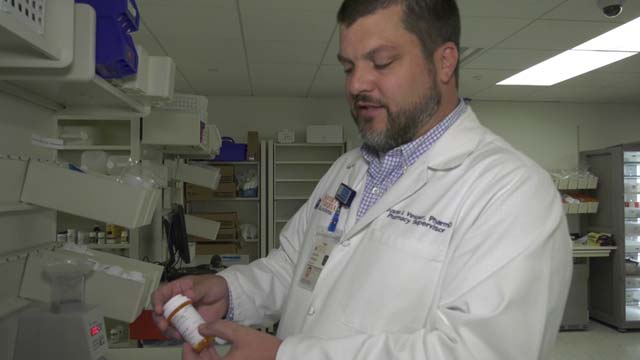 Justin Vesser, a pharmacy supervisor at UVA
CHARLOTTESVILLE, Va. (WVIR) -
For some people, it's become a common thing for people to hold on to older prescriptions and medicine for illnesses they may encounter down the road.
However, taking older medicine can lead to problems if consumed after the expiration date.
Studies show that some medications can still be effective years after being prescribed, but pharmacists at the University of Virginia say all medications have expiration dates.
While taking prescribed medicine is sometimes necessary when overcoming an illness or chronic pain, it can also be a downfall if pills are taken beyond the expiration date.
"You don't want to try and treat a headache and end up with an infection," says Justin Vesser, a pharmacy supervisor at UVA.
Testing shows that some medications are often good, safe, and effective long after the expiration date, but there's no guarantee that that's true for everything you're prescribed.
"Liquid medications, you know, certain formulations are not stable or not safe and effective, you know, very long at all - especially water-based things," says Vesser.
"For example, if I have asthma and my inhaler expired, that albuterol that's in there may not be there and that could be a problem," says Chris Holstege, the medical director at Blue Ridge Poison Center.
Pharmacists say they abide by guidelines from manufacturers, which are set by the Food and Drug Administration for safety and effectiveness.
"Those dates are actually set more for the companies for sales," says Holstege. "In fact, there has been some really interesting studies done by some of our colleagues that even 40 years out, medications such as acetaminophen - what's in Tylenol - are still stable and over 90 percent of it is still there."
If you have prescribed medication, it's important to take notice of the "beyond use date" printed on the label.
"In Virginia, we state a standard expiration date of one year from the date that it was filled unless the stock bottle we used to fill it had a shorter expiration date - and then we mark that on there instead," says Vesser.
Pharmacists at UVA say they pull all medication from their shelves within three months of their expiration date.
If you have questions or concerns about medication, it's best to ask your doctor or pharmacist.