Trey Smith Sees Success Early in Amateur Golf Career
Posted:
Updated: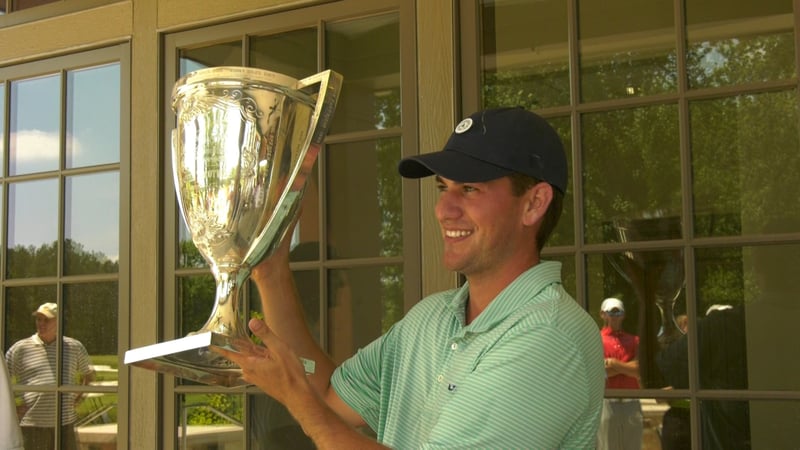 Trey Smith won the 105th VSGA Amateur Championship this past weekend
GLEN ALLEN, Va -
Even after winning the 105th VSGA amateur tournament championship in dominate fashion, Trey Smith still had some criticism for himself.
"I got a little sloppy on that second 18," says Smith. "I was tired, I played a lot of golf this week."
Smith was born and raised in Virginia Beach where he attended Kellam High School.
The 25-year old says he didn't start taking golf seriously until he got to high school.
"I got better as I got through high school, which allowed me to start qualifying for this event," says Smith. "everyone's goal when they qualify here is to try and win."
Smith did just that.
He defeated Radford rising sophomore Andrew Kennedy in match play eight up with seven to play.
Or in other words after 29 of 36 holes, there was no way for Kennedy to come back.
"Teammate gave me a little advice that he literally hits the ball straight every time," says Kennedy. "He doesn't mess up. He's a great lag putter."
Smith was familiar with the Federal Club course but says his playing time at James Madison really prepared him for playing in a a tournament environment.
"You couldn't beat the facilities that they allowed me to practice on and get better as a player, so definitely a big shout out to JMU and everything that they've done for me."
In 2016 smith thought he might want to teach golf.
He worked as an assistant golf pro, but decided that it wasn't for him and regained his amateur status just this year.
"I couldn't wait to get back into VSGA events and start playing again," says Smith.
And early on in his amateur career, Smith has already claimed one of the most difficult VSGA tournament titles.
"I don't even know. Nothing but confidence. It just gives me the confidence to go win anywhere honestly. I can't put it into words. I can't"