James Monroe's Highland to Host 4th Annual Tuesday Tunes
Posted:
Updated: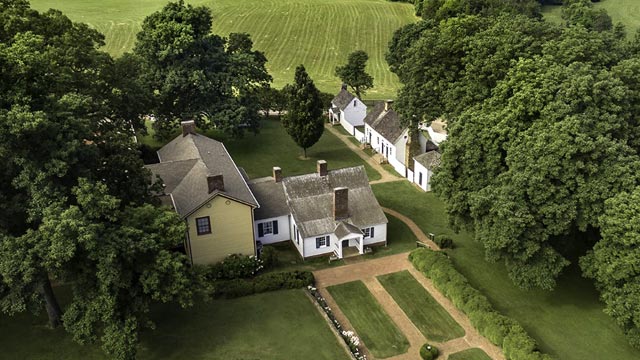 Monroe's Highland (Photo courtesy Gene Runion / highland.org)
CHARLOTTESVILLE, Va. — James Monroe's Highland, in partnership with The Front Porch, will host the 4th annual Tuesday Tunes, a three-part series of FREE sunset concerts at the home of President James Monroe. These family-friendly performances present music from Virginia and the mid-Atlantic region.
The series will debut on June 26, from 5:30-8:30 p.m., with an evening of old-time music by Faster than Walking and a family square dance. The second performance in the series will take place on July 10, from 5:30-8:30 p.m., with bluegrass by Meadow Mountain. The final concert in the series will take place on August 14, from 5:30-8:30 p.m., with music by The Pollocks.
"We are pleased to announce that for the first time the Tuesday Tunes performances will be free for everyone to enjoy," said Executive Director Sara Bon-Harper. "Our partnership with The Front Porch has helped connect James Monroe's historic property with traditional music that embodies the region."
Admission to Tuesday Tunes is FREE and open to the public. Guests are welcome to bring picnic blankets and lawn chairs. Local food and beverage vendors will be on-site. Guests are encouraged to buy or pack a picnic and experience the beauty of James Monroe's Highland at dusk. While alcohol will be available for purchase at Tuesday Tunes, guests are asked to leave their own alcoholic beverages at home. Tuesday Tunes is located at Highland in the Events Pavilion, providing shelter in case of rain.
About The Front Porch
The Front Porch Cville is dedicated to fostering a vibrant traditional music community in Charlottesville, Virginia, by working to preserve the cultural heritage of traditional music and dance forms of the Appalachian region and beyond. This is accomplished by providing educational opportunities to the public through lessons, public concerts, workshops, jams and associations with similar non-profit organizations. The Front Porch Cville is a "traditional" music school that focuses on the musical history and artistic legacy of Central Virginia and the Appalachian region, reflected in old time, folk, bluegrass, acoustic blues, and gospel repertoires. Visit frontporchcville.org for more information.
About James Monroe's Highland
Highland, the home of James Monroe, the fifth president of the United States, is adjacent to Thomas Jefferson's Monticello in Charlottesville, Virginia. Purchased by Monroe in 1793, the property was home to the Monroe family for nearly 25 years. Acquired by William & Mary (Monroe's alma mater) in 1974, Highland offers tours each day, hosts community and private events, and features a robust museum shop including a Virginia Artisans Room. For hours, directions and more information, visit highland.org or call 434-293-8000.