New Charlottesville Police Chief Sworn In
Posted:
Updated: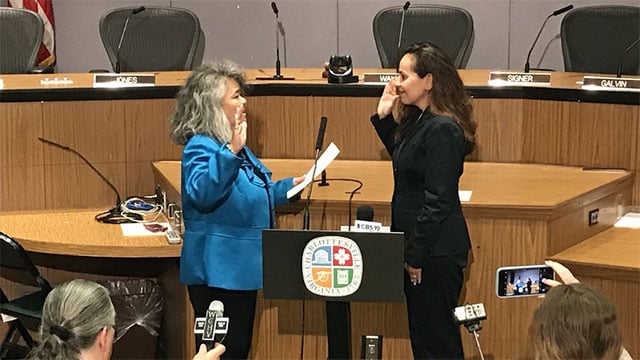 Llezelle Dugger swearing in RaShall Brackney
CHARLOTTESVILLE, Va. (WVIR) -
The city of Charlottesville started another chapter on Monday, June 18, with the swearing-in of RaShall Brackney as the city's new chief of police. While she is the first woman to take the top cop job in the city, she believes the life experiences she brings to the table will help bridge gaps in the community.
Brackney has over 30 years of experience in law enforcement. She is a former George Washington University police chief and also a veteran of the Pittsburgh Bureau of Police. The chief says she understands what it's like being a minority in policing and feeling disenfranchised as a minority in society.
"Those are the communities I come from, they rapport often with violence in them, and even my work in my PhD was on resiliency strategies for young African-American men in violent communities," Brackney stated.
Brackney says she wasn't intimidated by coming to Charlottesville, but excited.
"I think Charlottesville has been placed uniquely and individually in a position that they can change the narrative about how we interact around the issues of race," Brackney stated.
The first thing on her agenda is to get to know people and then plan for the anniversary of the Unite the Right Rally, which took place on August 12, 2017.
"I have now set up meetings to meet with every level on every shift, so I'm going to their shifts and spending time with them," Brackney stated. "The next thing is to make sure that the action plans and the trainings and all of the other emergency operation plans [are ready] so that we're prepared, adequately prepared, for the upcoming anniversary that's looming over each and every one of our heads."
She says she won't make any predictions for the Aug. 12 anniversary but they're preparing for the worst and praying for the best. The chief says things are already in motion that she will have to support and possibly expand for the upcoming anniversary.
Chief Brackney was joined by city officials and her husband, Stefan Wheelock, for the swearing-in ceremony Monday.
"I think that she will be able to - and that's our hope – bridge the divide that we currently have in our city between citizens, especially black citizens who live in predominantly low income communities and law enforcement," Charlottesville Mayor Nikuyah Walker stated.
Wheelock says he is extremely proud and looks forward to seeing progress in Charlottesville.
"We want to see the community heal," Wheelock stated. "Our conversations have long been about that - way before this job - and it's going to be the same thing during this process."
Brackney says it's exciting to be the first female police chief in Charlottesville,but she believes people should be saddened that gender is still a topic of conversation in 2018 because we haven't had women in these types of positions.