Neighborhood Revitalization Project Took Place in Southwood
Posted:
Updated: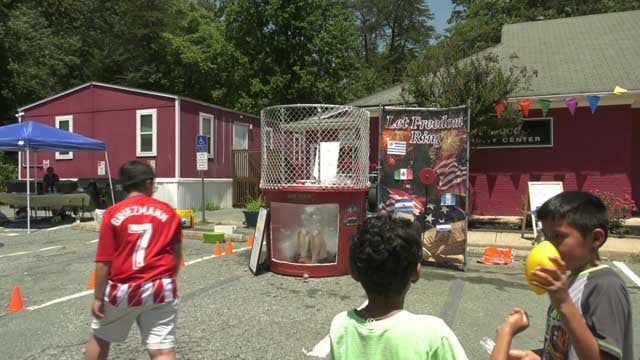 Children from Southwood playing with a dunk dank
ALBEMARLE COUNTY, Va. (WVIR) -
Wells Fargo Bank donated more than $22,000 to Habitat for Humanity of the greater Charlottesville area. The grant aims to help improve the quality of life for people living in Southwood. Southwood Market Day, one of the neighborhood revitalization projects, took place Saturday, June 16.
In addition to the financial contribution, Wells Fargo organized for volunteers to help with the event.
Families got to enjoy a variety of games and activities at the Southwood Community Center.
"So Southwood is a community of families that really value spending time together, activities for their kids," Habitat for Humanity's associate director of community partnerships, Jo Olson said, "They really enjoy celebrations, and so this festival is a reflection of those values and it's done in partnership with the community members."
"It's something we love to do. One of the great things about Wells Fargo and our volunteer team here in the community is that we do actually come out hands-on and help with events," J. B. Hurt, premiere banker of Wells Fargo said, "It's not just about the money. We like to get out and really help the folks."
"It brings people together," Southwood Resident, Juan Garzan said.
Habitat for Humanity and the community continue to work towards a master plan for Southwood.
"When Habitat for Humanity purchased the park, we made a promise of non-displacement to the community members who are living here," Jo Olson said. "It was really important to us that this pocket of affordable housing be maintained, and so throughout the process we've been engaging with community members and assuring them that there will be multiple options for them after the redevelopment."
The grant is part of Wells Fargo's national program that supports revitalization initiatives with Habitat for Humanity. In addition to community engagement programs, the grant will help with land clearing and maintenance.