New Drug Trial Aims to Help Collect Data to Treat Lupus Patients
Posted:
Updated: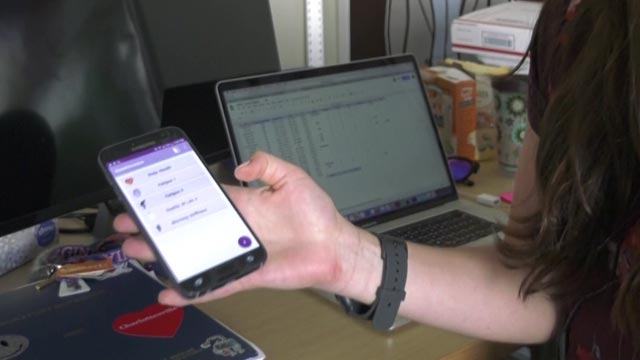 A new app will help lupus patients track their symptoms
CHARLOTTESVILLE, Va. (WVIR) -
A new clinical drug trial in Charlottesville wants to help those struggling with lupus by using a cellphone and a watch to collect data for a more successful treatment.
A majority of the time, if you go to the doctor's office, you'll find yourself being asked some sort of question about your symptoms.
For example, people are often asked how they've been feeling over the past month. For many, it's hard to remember what they even ate a day ago.
This new app, created right here in Charlottesville, is designed to help lupus patients by collecting data daily on a variety of symptoms without stepping foot in a doctor's office.
Ampel BioSolutions in Charlottesville is taking a new approach to an incurable disease.
"We're focused on doing precision medicine - finding the right drug for the right patient at the right time," says Dr. Amrie Grammar, owner of Ampel BioSolutions.
The biotech company was founded back in 2013, and it launched a clinical trial for lupus back in December that's now stretched nationwide.
"There hasn't been a drug approved for lupus in more than 60 years – just one called Benlysta - so there's a really intense need for new therapies for precision medicine for lupus patients," says Grammar.
That's where this new clinical trial steps in to help.
"The goal here is to try to assess how the patient is experiencing the disease or the treatment without the interpretation of a physician," says Dr. Peter Lipsky, the CEO of Ampel BioSolutions.
Patients enrolled in the study are asked to take a pill daily before they go to sleep, and use a smartphone app and smartwatch regularly in an effort to accrue more accurate data.
"Now I don't know about you, but I can't remember what I had for breakfast this morning," says Lipsky.
Rather than having a patient try to remember how he or she felt over a month's timespan at the next doctor's visit, the app, called Lupro, prompts patients to answer questions about their symptoms daily.
The smartwatch tracks a patient's activity and sleep.
Right now, the trial has 40 patients enrolled from 20 different locations around the country.
Ampel BioSolutions says its main goal is to one day have the cure for this pain-inflicting disease.
"That's my hope," says Grammar. "That would be a home run, and we're making some good steps along the way."
The trial will last for six months, and Ampel BioSolutions is looking for 20 more participants to join.