Montpelier Slavery Exhibition Wins Cultural Heritage Media and Technology Awards
Posted:
Updated: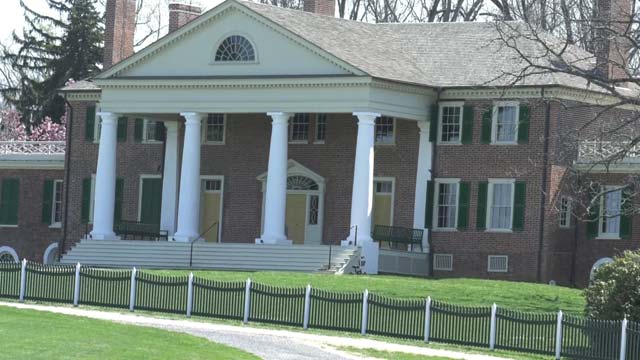 James Madison's Montpelier [FILE]
James Madison's Montpelier Press Release:
Orange, VA-- James Madison's Montpelier is excited to announce that our permanent slavery exhibition, "The Mere Distinction of Colour," recently won two, 2018 MUSE Awards.
"Legacies of Slavery," a provocative 10-minute film analyzing the history and legacies of slavery won the Silver MUSE Award in the category of Video, Film, and Computer Animation. The film, "Fate in the Balance," a story told from the point of view of Ellen Stewart, the daughter of Dolley Madison's enslaved ladies' maid, also won a Silver MUSE Award in the category of Multimedia Installations. The awards were presented during a ceremony held on Sunday, May 6, 2018 at the American Alliance of Museums Annual Meeting in Phoenix, AZ. Montpelier's Vice President of Museum Programs, Elizabeth Chew, was present to accept the awards.
"We share these awards with the members of our descendant community," says Chew. "Because of their courage, partnership, and honesty, we were able to create an exhibition that highlights the humanity of the enslaved and breaks new ground by connecting the past to the present and acknowledging the contemporary legacies of slavery."
Over 90 Gallery, Library, Archive & Museum professionals from across the world participated as jurors in the process of reviewing and selecting the winners. Winning entries demonstrated outstanding achievement in their content, design, interface, technical merit, accessibility, innovation, and appeal.
"The Mere Distinction of Colour" opened to the public June 4, 2017, and was made possible by generous support from David M. Rubenstein. The exhibition engages the economic, ideological, and political factors that cemented slavery in the United States and its Constitution; dispels commonly held myths about enslaved people; illuminates the humanity of those who were enslaved by examining their personal communities and connections; and builds on over two decades of close collaboration with the Montpelier Descendant Community to present an authentic, holistic picture of slavery at Montpelier and nationwide. Multimedia assets for the exhibition were created in collaboration with Northern Light Productions and Proun Design.
"We are honored that our work is being well-received," says Montpelier President & CEO, Kat Imhoff. "We set out to create a unique and truthful experience that addresses the impact of slavery on America's founding era and how that connects to today's society, in a way that is engaging, emotional, and relevant. We're excited to continue tackling difficult history and engaging partners and our active descendant community to tell this more complete American story."
"The Mere Distinction of Colour" is open to the public seven days a week. For hours, directions, and ticket information, visit montpelier.org/visit.