JMU Women's Lax Advances to NCAA Quarterfinals with 15-12 Win Over UVa
Posted:
Updated: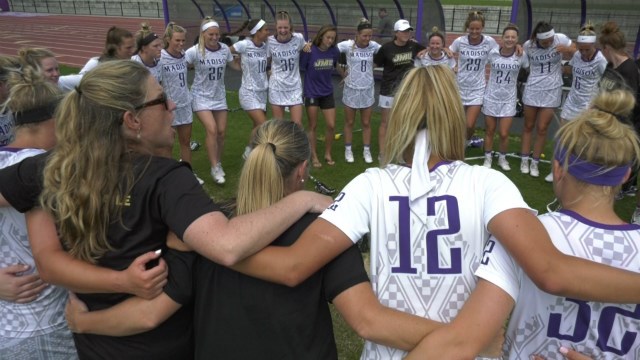 JMU head coach Shelley Klaes-Bawcombe talks to her team after the win against UVa on Sunday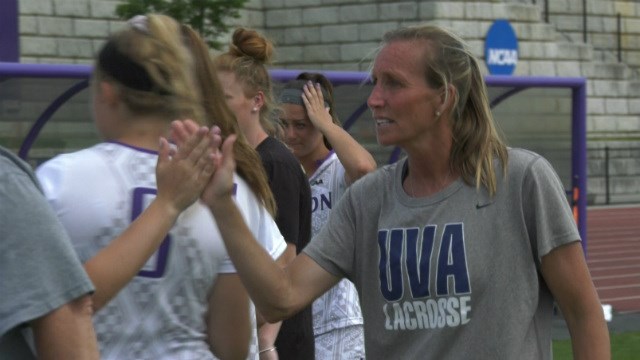 Head coach Julie Myers and the Cavaliers finish the season with a record of 10-10
JMU Athletics Media Release
HARRISONBURG, Va. – Senior midfielder Haley Warden and senior attacker Kristen Gaudian each tallied four goals, and third-seeded James Madison used a six-goal run to bridge the halves and a 3-1 run over the final 8:21 to surge past Virginia 15-12 in the second round of the 2018 NCAA Women's Lacrosse Championship on Sunday afternoon at Sentara Park.
The Dukes improved to 19-1 on the season, advancing to the national quarterfinals for the first time since 2010. They will host sixth-seeded Florida in next weekend's quarterfinal in Harrisonburg. The Cavaliers saw their season end with a 10-10 mark.
Warden and Gaudian each scored four goals, tying for game high-honors with Virginia's Avery Shoemaker and Sammy Mueller. Senior midfielder Elena Romesburg scored three goals with an assist, junior attacker Hanna Haven notched a goal and two assists, and senior attacker Katie Kerrigan dished out a game-best three assists.
JMU held a 17-11 advantage on draw controls, as Romesburg led the team seven draws. Gaudian won six and Warden tallied four to account for JMU's six-draw lead. Gaudian moved into second place in JMU single-season history in draws (73) and Romesburg moved into fifth in the same category (67). Senior defender Rebecca Tooker led the defense with a game-high three caused turnovers, while Warden and sophomore defender Emma Johnson each had two.
JMU out-shot Virginia 29-22 (20-15 SOG), while also holding leads in draw controls (17-11), caused turnovers (10-5) and ground balls (14-10). Aside from her four goals, Mueller led Virginia and the game with nine draws.
Virginia took control early, jumping out to a 3-1 lead just over five minutes in. Trailing 4-2, the Dukes closed the half with a big run, scoring five straight over the last 4:50 to snag a 7-4 halftime advantage. Knotted up at 4-4, the Dukes netted three of their five in the final 55.4 seconds, including a buzzer-beating free-position shot by Warden.
JMU led 12-9 with 14:13 to play until the Cavaliers scored back-to-back goals by Mueller and Shoemaker to bring the visitors to within a goal, at 12-11, with 9:22 to go. JMU answered with consecutive goals by Warden and Romesburg and a tally by sophomore attacker Maddie McDaniel with 2:18 sealed the win.
BACK IN THE QUARTERS
JMU punched its ticket into the NCAA quarterfinals for the eighth time in school history and the first since 2010. The Dukes have made the Final Four once, winning their quarterfinal in 2000 against Virginia to reach the national semifinals. This will mark the fourth time JMU has hosted a quarterfinal (2000, 2004, 2010, 2018).
SINGLE-SEASON RECORD FOR KTK
Katie Kerrigan tallied three assists in JMU's second-round win, which put her all alone atop JMU's single-season assists list. She now has 52, which passed Monica Zabel's 49 in 2012. That is also just three off the Colonial Athletic Association record, set by Towson's Samantha Brookhart last season.
STAYING UNBEATEN AGAINST CAVS IN NCAA
JMU and Virginia played its third matchup in the NCAA Championship on Sunday, with the Dukes claiming the win for the third straight time. JMU previously beat the Cavaliers 12-5 in the 2000 quarterfinals at home and also won 11-8 in Charlottesville the following year. The 15 goals were tied for the most by any JMU team in the NCAA Championship, matching the 15 it scored in a 1998 win over William & Mary.
UP NEXT
Third-seeded JMU hosts sixth-seeded Florida in the NCAA Championship quarterfinals on Saturday, May 19 at 1 p.m. Tickets will go on sale at www.jmutickets.com later this evening.