JMU Rallies to Beat Charleston 5-3 in CAA Softball Tournament
Posted:
Updated: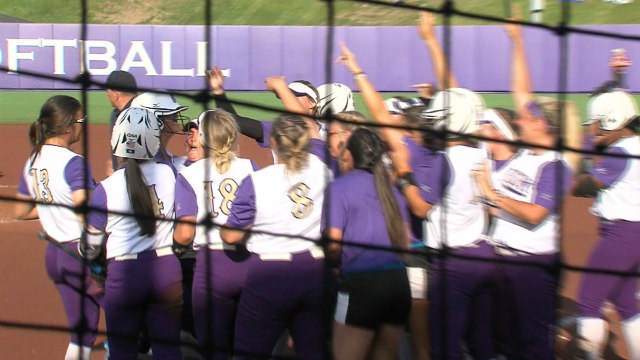 The Dukes celebrate a home run by Morgan Tolle
JMU Athletics Media Release
HARRISONBURG, Va. – A three-run jolt in the sixth inning secured the comeback 5-3 victory for the No. 1 seeded James Madison softball team in the first round of the Colonial Athletic Association Championship against No. 5 seeded College of Charleston Wednesday evening at Veterans Memorial Park.

The Dukes improved to 41-10 overall, while Charleston fell to 30-26.

Freshman Sara Jubas went a perfect 4-for-4 at the plate, including the single that drove home the win-sealing run and a double in the bottom of the third. Senior Morgan Tolle went 3-for-4 at the plate as she also singled in the sixth inning, tying the game as she sent sophomore Madison Naujokas home.

In the bottom of the fifth, Tolle knocked the Dukes' only long ball for the squad's first two runs of the game, tying the program's single season record for homers with 17. She also tallied a game-high three RBI.

Senior Ashley Samuels registered two runs on the day – one coming in the thrilling sixth inning – with a single and a walk.

The 2018 CAA Rookie of the Year Payton Buresch was credited with the win, improving her record in the circle to 18-4 after 2 1/3 innings of work. The 2018 CAA Player of the Year Odicci Alexander got the start on the mound. She struck out three in 4 2/3 innings. From behind the dish, Alexander also added a hit and an RBI on the day.

Going up by three runs to begin the game, Charleston knocked a two-run homer in the second and another long ball in the fourth before the Dukes stepped up to take the win.

QUOTING COACH LAPORTE
"We really needed that big sixth inning to get the girls' energy up as we move on in this tournament. I'm extremely proud of Sara for making the most of all of her at bats and of Morgan for tying the home run record and giving us the momentum to kick-start our bats. Hopefully we'll use this win to energize us against Hofstra tomorrow. We may have swept them last time, but they're going to come out on fire and we need to be prepared."

UP NEXT
Due to impending weather, JMU will now face No. 2 seeded Hofstra at 10:30 a.m. on Thursday, May 10. The game will be streamed on CAA.tv.