Senators Announce $94.8M in Grants for Projects Across Virginia
Posted:
Updated: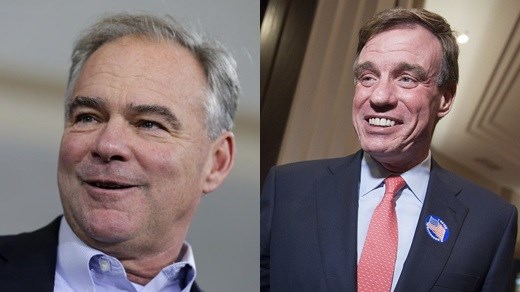 Sen. Tim Kaine and Sen. Mark Warner (Photos courtesy the Associated Press in 2016)
05/09/2018 Joint Release from the Offices of Senators Mark Warner and Tim Kaine:
WASHINGTON, D.C. - Today, U.S. Senators Mark R. Warner and Tim Kaine announced $94,819,202 in federal funding to help Virginia communities with housing and infrastructure projects.
The funding, which will go to more than 30 locations across Virginia, will be awarded through the Department of Housing and Urban Development's Community Development Block Grant (CDBG), Emergency Solutions Grants (ESG), Housing Opportunities for Persons with AIDS (HOPWA), HOME, and Housing Trust Fund (HTF) programs.
"We are pleased to announce funding that will help provide many Virginia families with the safe and affordable housing they need," the Senators said. "These grants will help strengthen the well-being of communities throughout our Commonwealth."
President Trump's FY 2019 budget proposes eliminating the Community Development Block Grant, HOME, and Housing Trust Fund programs. The budget also proposes cutting ESG by 5.6% and cutting HOPWA by 12%. Warner and Kaine have opposed President Trump's budget cuts to Virginia priorities and will continue fighting for this important HUD funding in Congress.
The $94,819,202 in funding will be awarded through HUD grants as follows:
| | | | | | | |
| --- | --- | --- | --- | --- | --- | --- |
| Recipient | CDBG18 | HOME18 | ESG18 | HOPWA18 | HTF18 | Total |
| Alexandria | $941,853 | $536,873 | $0 | $0 | $0 | $1,478,726 |
| Blacksburg | $482,932 | $672,718 | $0 | $0 | $0 | $1,155,650 |
| Bristol | $254,487 | $0 | $0 | $0 | $0 | $254,487 |
| Charlottesville | $408,417 | $624,013 | $0 | $0 | $0 | $1,032,430 |
| Chesapeake | $1,182,627 | $550,827 | $0 | $0 | $0 | $1,733,454 |
| Christiansburg | $111,703 | $0 | $0 | $0 | $0 | $111,703 |
| Colonial Heights | $94,495 | $0 | $0 | $0 | $0 | $94,495 |
| Danville | $865,416 | $270,868 | $0 | $0 | $0 | $1,136,284 |
| Fredericksburg | $186,790 | $0 | $0 | $0 | $0 | $186,790 |
| Hampton | $1,156,814 | $557,513 | $0 | $0 | $0 | $1,714,327 |
| Harrisonburg | $559,588 | $0 | $0 | $0 | $0 | $559,588 |
| Hopewell | $177,848 | $0 | $0 | $0 | $0 | $177,848 |
| Lynchburg | $733,913 | $438,772 | $0 | $0 | $0 | $1,172,685 |
| Newport News | $1,257,434 | $786,711 | $0 | $0 | $0 | $2,044,145 |
| Norfolk | $4,323,842 | $1,278,608 | $351,181 | $0 | $0 | $5,953,631 |
| Petersburg | $624,601 | $0 | $0 | $0 | $0 | $624,601 |
| Portsmouth | $1,557,075 | $452,783 | $0 | $0 | $0 | $2,009,858 |
| Radford | $165,992 | $0 | $0 | $0 | $0 | $165,992 |
| Richmond | $4,442,476 | $1,500,301 | $366,794 | $1,050,009 | $0 | $7,359,580 |
| Roanoke | $1,732,287 | $606,064 | $139,611 | $0 | $0 | $2,477,962 |
| Suffolk | $466,234 | $377,689 | $0 | $0 | $0 | $843,923 |
| Virginia Beach | $2,000,832 | $1,122,655 | $164,230 | $1,524,127 | $0 | $4,811,844 |
| Waynesboro | $193,586 | $0 | $0 | $0 | $0 | $193,586 |
| Winchester | $231,081 | $615,483 | $0 | $0 | $0 | $846,564 |
| Arlington County | $1,363,320 | $762,215 | $0 | $0 | $0 | $2,125,535 |
| Chesterfield County | $1,390,089 | $558,425 | $0 | $0 | $0 | $1,948,514 |
| Fairfax County | $5,574,509 | $2,103,044 | $447,834 | $0 | $0 | $8,125,387 |
| Henrico County | $1,692,829 | $897,341 | $138,560 | $0 | $0 | $2,728,730 |
| Loudoun County | $1,334,299 | $0 | $0 | $0 | $0 | $1,334,299 |
| Prince William County | $2,504,696 | $919,946 | $201,653 | $0 | $0 | $3,626,295 |
| Funds for Va. to administer to lower population areas | $18,289,253 | $10,094,628 | $2,771,457 | $962,389 | $4,672,562 | $36,790,289 |
| Total | $56,301,318 | $25,727,477 | $4,581,320 | $3,536,525 | $4,672,562 | $94,819,202 |