Former Virginia Tech President Charles Steger Dies at 70
Posted:
Updated: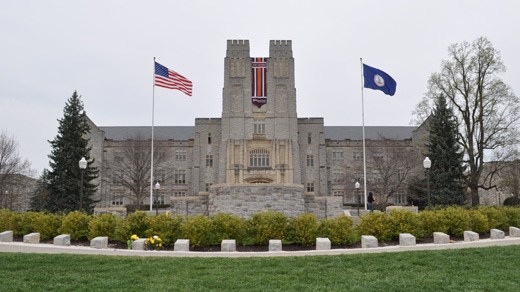 Virginia Tech
BLACKSBURG, Va. (AP) - Virginia Tech says its former president Charles William Steger Jr., who led the institution during a 2007 mass shooting and through a period of great change, has died. He was 70.
The university said in a news release Monday that Steger died Sunday evening at his home in Blacksburg. A cause of death was not provided.
Virginia Tech spokesman Mark Owczarski told The Associated Press that Steger's family notified the university of his death.
Steger served as the university's 15th president from 2000 to 2014, a tenure that included an on-campus mass shooting in April 2007, when a gunman killed 32 people.
During his time as president, the news release says Virginia Tech increased its enrollment, created a public-private school of medicine and joined the Atlantic Coast Conference.
Copyright 2018 The Associated Press. All rights reserved. This material may not be published, broadcast, rewritten or redistributed.
---
Congressman Bob Goodlatte (R-Va.) released the following statement on the passing of Dr. Charles William Steger Jr.:
Dr. Charles Steger was a visionary who oversaw the largest expansion in Virginia Tech history. With Dr. Steger at the helm, the university became the premier educational institution we know today. A true leader, he also brought together an entire campus and community during the horrific tragedy in 2007. I'm honored to have known Dr. Steger and worked with him closely over the years. I was especially excited by the partnership that he developed with Carilion Clinic to create the Virginia Tech Carilion Research Institute and the Virginia Tech Carilion School of Medicine in Roanoke. This strengthened the university's ties to the nearby Roanoke region and the Sixth Congressional District. My prayers are with his family and the entire Virginia Tech community during this incredibly difficult time.
University of Virginia President Teresa A. Sullivan issued the following statement regarding the death of Virginia Tech President Emeritus Charles Steger:
Today I join with colleagues and friends in the Commonwealth of Virginia and beyond in mourning the death of Virginia Tech President Emeritus Charles Steger. Charles committed his energy and vision to the growth and success of Virginia Tech, creating one of the nation's finest research universities over the years, and he was also a strong advocate for higher education in Virginia and across the nation. Charles was a servant-leader in the truest sense of those words, and we will miss him dearly. I personally will miss his wise counsel and friendship.