Charlottesville Neighborhoods Host Discussions on August 12 Fallout
Posted:
Updated: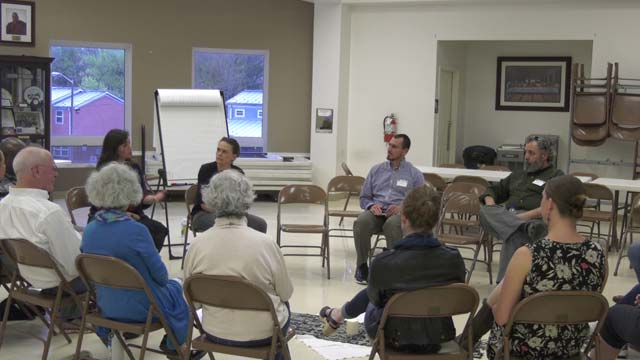 Neighborhoods across Charlottesville held open discussions on April 26
CHARLOTTESVILLE, Va. (WVIR) -
After the events of last August, many are still distraught over the violence that occurred in Charlottesville. Neighborhoods all over the city are getting those feelings out in the open with a community discussion.
On Thursday, April 26, eight different Charlottesville communities came together as the Charlottesville Community Leadership Council led them in a group discussion about dealing with the events of August 12.
And while many were open to moving on, others were also scared about what's to come. After the events of August 11 and 12 struck the city of Charlottesville, many people are still shaken up.
"A lot of people are still hurting, and honestly still traumatized by their experiences that day and by seeing hateful actions and language just spread across our town," says Annmarie Hohenberger, president of the Ridge Street Neighborhood Association.
Neighbors all over the city attended meetings Thursday night – over eight months after the events - to have a group discussion.
One of those eight forums was at Mt. Zion First African Baptist Church.
"We're really trying to look at how they've affected the people in the community, and what they think we can do to strengthen our own personal community," says Reverend Alvin Edwards.
The Charlottesville Community Leadership Council hosted the neighborhood panels to deal with the fallout and help the city heal.
"One of the things I'm a very firm believer of is I believe the answer lies within the community and not just with the leaders," says Edwards.
Many attendees talked about how they feel that they've been treated differently since August. They discussed race relation issues and what they fear for what could be in store for summer 2018.
"I'm concerned about people getting hurt," says Hohenberger. "And I'm concerned about people with good intentions and people with love in their hearts not having a chance to be heard and take care of each other."
But, they also talked about how the Unite the Right rally uncovered problems many people were blind to previously.
"In that way, I think we have a positive basis for having really good conversations and resolving some of our tensions," says Hohenberger.
Some other locations that hosted events Thursday night include First Presbyterian Church, Wesley United Methodist, and Trinity Episcopal, as well as four Charlottesville elementary schools.
Unfortunately, NBC29 was denied filming access at some of these locations because facilitators wanted people to feel more comfortable opening up on their thoughts.