CAT Asking Public to Offer Feedback on Proposed Route Changes
Posted:
Updated: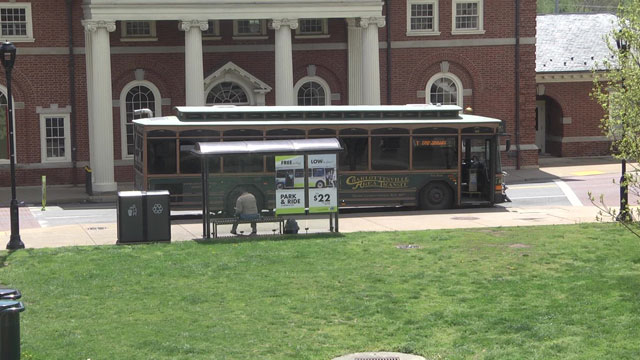 A trolley with Charlottesville Area Transit
CHARLOTTESVILLE, Va. (WVIR) -
Charlottesville Area Transit wants input on a slew of proposed changes to bus routes and stops.
The changes would affect the free trolley route, along with routes one, seven and 12, and routes nine and 10.
Transit service officials describe the changes as minor, but add that they are important to deal with the changes they are seeing in how people use the public transit system.
"What we're really trying to do is trying to match what our current service offerings are into something that will fit the general public a little bit better, and sort of align with what their needs are," says Westley Kern, CAT's marketing coordinator.
The transit service will hold two meetings to get feedback on the changes. The first is set for Wednesday, April 25, and the other is on Thursday, April 26.
---
Charlottesville Area Transit Press Release:
Charlottesville, Virginia... 4/12/2018... Charlottesville Area Transit (CAT) is soliciting feedback from the general public for potential service changes.
In the coming weeks, CAT will host two public meetings. Topics covered will included an update on the Transit Development Plan (TDP) as well as proposed summer changes to Routes 1, 7, 9, 10, 12, and the Free Trolley. Both meetings will be identical in scope.
The first meeting will occur at 6:35 PM on Wednesday, April 25 at CitySpace (100 5th St NE, Charlottesville, VA 22902). The second meeting will occur at 11:35 AM on Thursday, April 26 at CitySpace.
Individuals who are unable to attend a meeting are encouraged to provide comments by email to CAT@charlottesville.org or by mailing a letter to:
Attn: Public Comment
Charlottesville Area Transit
615 East Water Street
Charlottesville, VA 22902
Public comments will be accepted through April 30, 2018.
Summary of Proposed Summer Service Adjustments
Free Trolley
Background Congestion near the UVA Chapel has made it difficult for CAT to serve the bus stop (#11908) without obstructing the flow of traffic.
Proposal: To reduce the risk of obstructing traffic, CAT would like to delay its departures from ALL time points by five minutes. This will allow time for the University Transit Service's (UTS) buses to depart prior to the Trolley arriving.
Background Disruptions from delivery trucks has made it difficult to serve the 2nd Street SW Mall Crossing (#17305).
Proposal To increase the reliability of service around the Downtown Mall, CAT would like to adjust the Trolley's alignment. The new alignment will have the Trolley use Ridge McIntire Road to reach Market Street. This will add Trolley service to the Omni bus stop (#11043) on Ridge McIntire Road and to the West Market at Old Preston Avenue bus stop (#11494).
Route 1
Background CAT's current time point at PVCC (the Stultz Center #19849) has cause confusion, specifically when it comes to the service order of bus stops through the campus.
Proposal: To reduce confusion, CAT would like to move the time point to PVCC's Dickinson Building (#12800). As part of the shift, the Stultz Center bus stop will move around the corner and be served directly on College Drive. In addition, the new time point at the Dickinson Building will occur at :50 past the hour.
Routes 7 & 12
Background With the extension of Hillsdale Drive, CAT has the opportunity to create efficiencies by using the new road to reach Greenbrier Drive.
Proposal: CAT would like to readjust the alignment and move the time point from the Marshalls (#14373) bus stop to the Hydraulic Road Kroger bus stop (#16531).
Rather than traveling on Seminole Trail (Route 29) to reach Greenbrier, both Route 7 and Route 12 will use Hillsdade Drive to reach Greenbrier Drive. The route will no longer serve the Marshalls bus stop, Post Office bus stop (#16447), Seminole Trail at Greenbrier Drive bus stop (#16452), and Greenbrier Drive at Hillsdale Drive bus stop (#16667). A new bus stop will be installed near the India Road intersection. The current Zan Road bus stop (#16423) will move slightly north towards Seminole Court.
Route 9
Background The current time points for the Charlottesville Health Department (#13967 and #13882) make it difficult for the route to maintain a timely schedule.
Proposal: To improve the anticipated departure and arrival times, CAT would like to shift the time points from the Charlottesville Health Department to the YMCA (#20096).
Route 10
Background Currently, Route 10 only serves the Social Security Administration Office (#13895) on weekdays until 5:10 PM.
Proposal: With the growth of nearby businesses, CAT would like to adjust the schedule to always serve the Social Security Administration Office. This will provide extended transit access to those who are located within close proximity to the bus stop.
A summary of all of these changes can be found on CAT's website at http://www.charlottesville.org/departments-and-services/city-services/charlottesville-area-transit-cat/schedules-maps/8-4-2018-proposed-schedule-adjustments.
CAT Asking Public to Offer Feedback on Proposed Route Changes

More>>