No Kid Hungry Virginia Announces School Breakfast Challenge Winners
Posted:
Updated: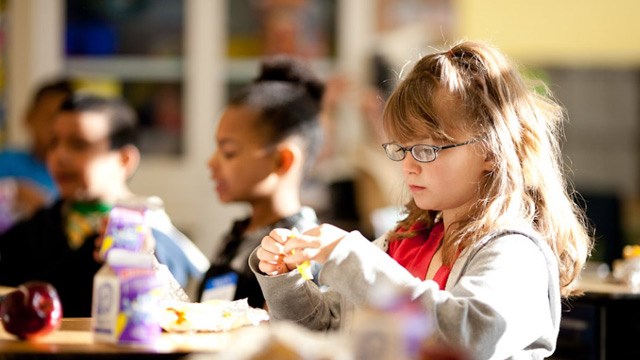 Photo courtesy va.nokidhungry.org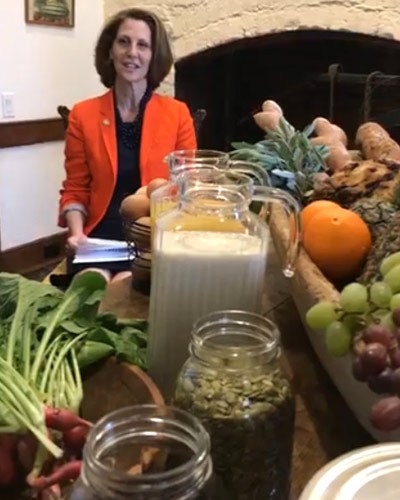 First Lady of Virginia Pamela Northam announcing #VABreakfastChallenge winners (Courtesy Facebook)
CHARLOTTESVILLE, Va. (WVIR) -
Schools in the Shenandoah Valley are among those winning prizes for increased participation in their breakfast programs.
Virginia's first lady Pamela Northam announced the No Kid Hungry Virginia Breakfast Challenge winners on Facebook.
Augusta County and Harrisonburg schools earned division recognition.
Wenonah Elementary School in Waynesboro and Shelburn Middle School in Staunton are two of 12 schools receiving individual recognition.
More than 1,500 schools competed.
School winners each receive $1,000 in grants and equipment for their breakfast programs.
---
Release from the Share Our Strength's No Kid Hungry Campaign:
Richmond, VA (April 12, 2018) – Today First Lady of Virginia Pamela Northam helped No Kid Hungry Virginia and partners announce the winners of the 2017-2018 Virginia Breakfast Challenge, a campaign to increase school breakfast participation across the state. In total, 1,514 schools from 127 divisions participated in the challenge.
School divisions were placed in one of four categories based on overall enrollment. In each category, one elementary, middle and high school won based on breakfast participation growth from October to December 2017, compared to the same time frame in 2016. School winners will each receive $1,000 grants and equipment for their breakfast programs.
In addition, one school division from each category won based on breakfast participation growth from October to December 2017, compared to the same time frame in 2015.
The following schools and school divisions were recognized through the Virginia Breakfast Challenge because of their success in connecting more students with breakfast:
Division Winner: Norton City Public Schools
Wenonah Elementary in the city of Waynesboro
Shelburn Middle in the city of Staunton
Hurley High in Buchanan County
Division Winner: Augusta County Public Schools
Riverlawn Elementary in Pulaski County
Vernon Johns Middle in the city of Petersburg
Rural Retreat High in Wythe County
Division Winner: Harrisonburg City Public Schools
Larchmont Elementary in the city of Norfolk
Homer L. Hines Middle in the city of Newport News
Armstrong High in the city of Richmond
Division Winner: Chesterfield County Public Schools
Hollin Meadows Elementary in Fairfax County
Falling Creek Middle in Chesterfield County
Stuart High in Fairfax County
Virginia Breakfast Challenge winners were announced through a Facebook Live stream on the Governor of Virginia's Facebook page. A recording is available at: https://www.facebook.com/GovernorVA/videos/10156389330921095/.
"Strengthening breakfast programs helps bolster early childhood education in Virginia," Mrs. Northam said. "We know that Breakfast After the Bell gives more students access to school breakfast, and we're proud of all the schools across the Commonwealth that participated in this year's Breakfast Challenge. We need to continue to support breakfast programs to help ensure a hunger-free Virginia."
One in seven kids in Virginia lives in families that struggle with hunger. Research shows that hunger has serious consequences for children, including lower test scores, weaker attendance rates, and higher risk of hospitalization and chronic diseases.
No Kid Hungry Virginia and its local partners focus on Breakfast After the Bell as a critical way to end childhood hunger in Virginia. The program increases access to school breakfast by bringing breakfast out of the cafeteria and making it a part of the school day.
The 2017-18 Virginia Breakfast Challenge is a collaborative initiative between No Kid Hungry Virginia, The Dairy Alliance, Virginia Hunger Solutions, School Nutrition Association of Virginia, Virginia Foundation for Healthy Youth, and Virginia Department of Education to encourage expanded participation in the National School Breakfast Program.
Visit va.nokidhungry.org for more information about No Kid Hungry Virginia's work and Breakfast After the Bell programs.