Monticello Awarded Nearly $1 Million in Grants
Posted:
Updated: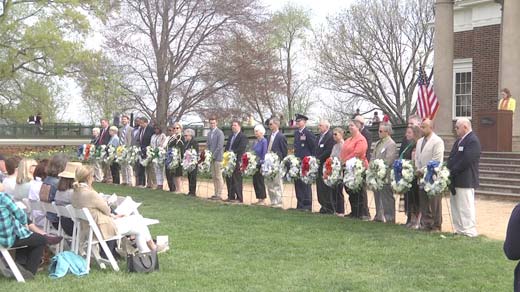 Monticello Founders Day (File Photo)
Thomas Jefferson's Monticello Press Release:
On Monday, April 9, 2018, the National Endowment for the Humanities awarded Thomas Jefferson's Monticello two major grants, making possible greater accessibility to new archaeological research and a landmark exhibition on the legacy of slavery.
Over the last 30 years, Monticello has received more than a dozen highly competitive, peer-reviewed grants from the NEH, totaling more than $4 million. These grants have supported a range of programs, including archaeology, exhibitions at the David M. Rubenstein Visitor Center, lectures, publications and the restoration of Mulberry Row — the dynamic, industrial hub of the Monticello plantation. These two new grants — combined with a $375,000 NEH Digital Humanities Advancement Grant announced in December — total nearly $1 million in NEH awards to Monticello within the last year.
A $300,000 NEH Public Humanities Project: Exhibitions grant will enable Monticello to update the landmark exhibition Slavery at Jefferson's Monticello: Paradox of Liberty with new content - including a feature on Sally Hemings - and launch a new national tour to four museums, beginning at the African American Museum of Dallas in September. A "pop-up" version of the exhibition, with special focus on descendant perspectives and journeys, will also travel to libraries and schools. Collectively, the exhibitions are expected to be on view in over 40 locations.
Slavery at Jefferson's Monticello uses Jefferson's home and plantation as a lens to explore the paradox of slavery in an age of freedom, and the lives of the enslaved families and their descendants. A second tour of this popular exhibition was inspired both by the availability of new content and by the imperative in the current national moment to discuss how the legacy of slavery continues to shape our nation.
A $315,000 NEH Humanities Collections and Reference Resources grant was also awarded to the Digital Archaeological Archive of Comparative Slavery at Monticello, known as DAACS, to identify, catalog, digitize and make accessible to diverse stakeholders collections from four of the earliest and most significant 17th-century archaeological sites. The sites are located at Flowerdew Hundred, a thousand-acre plantation on the south side of the James River in Virginia.