Downtown Charlottesville Farmer's Market Returns for Another Season
Posted:
Updated: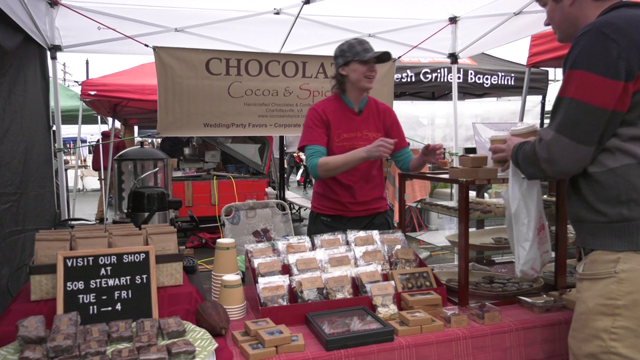 Jennifer Mowad.
CHARLOTTESVILLE, Va. (WVIR) -
The downtown Charlottesville Farmer's Market returned on Saturday to kick off its 45th season in support of farmers and artists in the Charlottesville area.
Despite a cold and wet Saturday, hundreds came out to enjoy central Virginia vendors.

"It feels great, we've been waiting for this all throughout the winter, this is what gives us energy," said Justin McKenzie, the market manager of Charlottesville City Market. "I just love being here, it's great to interact with the community and give back to our vendors."
From April to October, more than 100 vendors are set to fill the space each Saturday morning to offer fresh food and hand-made products.
"I think it's great; not only does it drive traffic down here that might not otherwise come on the weekends, but it [also] just bring sort of a sense of place of authenticity that you're not necessarily going to get with a bunch of storefronts," said Kevin Neilson-Hall, co-owner of the Freckled Farm Soap Company.
Vendors believe that the city market also offers a sense of community.
"I love it, this is my fourth season with the market," said Jennifer Mowad, the owner of Cocoa & Spice. "I interact with my regular customers, I've missed them all three months we were closed and just also the new customers that come through whether they're local in Charlottesville and this is their first time here or first time at my table."
Vendors say they are excited to soon have a permanent home for the market. The recently approved West Second development will host the city market upon its completion.
"It seems to be that things being up in the air was just more stressful for people in general and now that there's a direction, I think people are just happy to know what to expect," said Neilson-Hall.