Virginia Tech Falls 71-65 against Notre Dame in ACC Tournament
Posted:
Updated: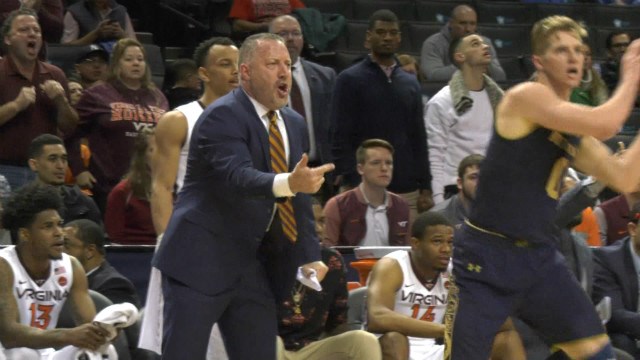 Virginia Tech head coach Buzz Williams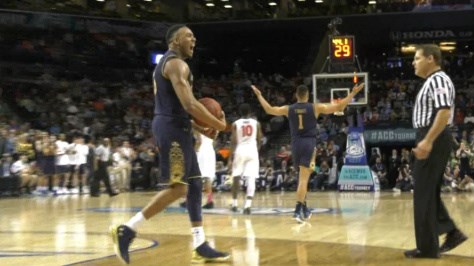 Bonzie Colson scored the go-ahead basket for Notre Dame
NEW YORK (AP) -- Bonzie Colson banked in a go-ahead, 3-point heave that barely beat the shot clock with two minutes remaining, and Notre Dame rallied from 21 down in the second half to stun Virginia Tech 71-65 on Wednesday night at the Atlantic Coast Conference Tournament.
Matt Farrell scored 22 points for the 10th-seeded Fighting Irish (20-13), who overcame a dreadful start in extending their late push to reach the NCAA Tournament.
Finally healthy after injuries to Colson and Farrell nearly wrecked a promising season, Notre Dame advanced to play Thursday night in the quarterfinals against fifth-ranked and second-seeded Duke, the defending tournament champion.
Do the Irish need to win at least that one, too, in order to make the field of 68?
Hard to say, but they sure woke up the echoes on this snowy night in Brooklyn.
With the Irish stars struggling to make shots, seventh-seeded Virginia Tech (21-11) was cruising along with a 47-26 lead with just under 14 minutes remaining when Farrell drained his second consecutive 3.
That started a ferocious surge that got a feisty Notre Dame squad back into it. The game got a little testy as the Irish picked up the intensity and the Hokies went cold on offense.
A technical foul on Virginia Tech swingman Chris Clarke for shoving Farrell led to four Notre Dame free throws that trimmed it to 54-50 with 7:45 to go. Colson kissed three fingers on each hand and gestured to the crowd after his desperation shot from the right wing gave the Irish a 60-59 edge.
They extended their advantage at the free throw line, and in the final minute, Farrell looked over at former Notre Dame star LaPhonso Ellis, broadcasting courtside for ESPN, and yelled: ''I told you Phonso, we ain't done!''
Colson, back recently from a broken foot, finished with 12 points on 4-of-14 shooting. Rex Pflueger had 14 points and nine rebounds, and T.J. Gibbs added 13 points and seven assists.
Justin Robinson and Justin Bibbs each scored 15 for the Hokies.
#ACCTourney Notes
Notre Dame (20-13) advances to Friday's 7 p.m. quarterfinal game and will face No. 2 seed and nationally fifth-ranked Duke (25-6) … Duke defeated the Fighting Irish 88-66 on Jan. 29 in Durham in a game in which the Irish's Bonzie Colson and guards Matt Farrell and D.J. Harvey were all sidelined by injuries.
Notre Dame, which rallied from 21 points down with 15:07 remaining in the game, improves to 8-3 in the five New York Life ACC Tournaments in which it has participated.
The Irish's comeback from a 13-point halftime deficit (34-21) was the third-largest by a winning team in ACC Tournament history … No. 6 seed Maryland overcame a 19-point deficit (45-26) to defeat No. 2 NC State in the 2004 semifinals (85-82), and No. 10 NC State overcame a 14-point deficit (40-26) to defeat No. 2 Virginia (79-71) in the 2007 quarterfinals.
Virginia Tech slips to 9-14 all-time in ACC Tournament play and to 2-2 in second-round games.
The No. 10 seed is now 3-7 all-time vs. the No. 7 seed in the ACC Tournament.
With Notre Dame's victory on Wednesday night, 11 ACC teams have now posted 20-win seasons, and one other (Boston College) has won 19 games.
All six games of the 2018 ACC Tournament played thus far have been decided by 10 points or less.
The first three games of Wednesday's second-round session featured big comebacks … Florida State trimmed a 26-point deficit to six points versus Louisville before losing 82-74; NC State battled back from 17-point deficit to tie Boston College before winding up on the short end of a 91-87 score.
With 12 points, Notre Dame senior Bonzie Colson upped his ACC-leading active consecutive-games double-figure scoring streak to 35 … Colson's eighth, ninth and 10th points of the evening came on his go-ahead 3-pointer off the glass with 2:02 remaining in the game that gave the Irish their first lead since the opening minutes of the first half at 60-59 … Notre Dame stayed ahead from there.
Matt Farrell led Notre Dame's scoring with 22 points while sinking four shots from 3-point range to raise his ACC-leading season total to 93 … Farrell also went 8-for-8 at the foul line to key the Fighting Irish's 21-for-25 team effort.
Notre Dame is now 8-2 all-time versus Virginia Tech … Thursday night's loss evened the season series following the Hokie's 80-75 win at South Bend during the regular season.
Justin Robinson registered seven assists, pushing his total for the season to 178 in 32 games (second-most in the ACC) …. Robinson also figured prominently in Virginia Tech's scoring with 15 points … It marked the All-ACC second-teamers sixth consecutive game scoring in double figures and his 25th of the season.
Justin Bibbs matched Robinson for Virginia Tech's team high in scoring with 15 points … Bibbs reached double figures for the 21st time this season.