Future of Charlottesville Government Revisited
Posted:
Updated: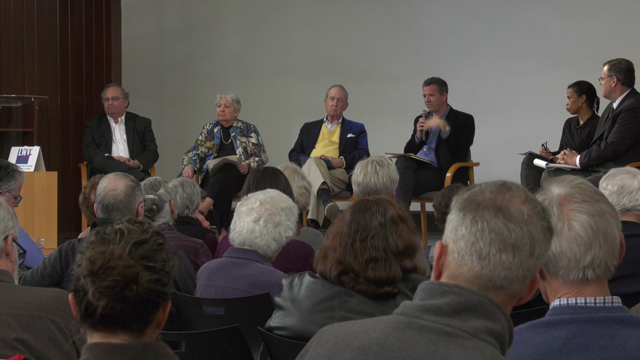 The panel
CHARLOTTESVILLE, Va. (WVIR) -
The aftermath of the events of last summer in Charlottesville is sparking debate about how the city's government could operate differently in the future.
That was the focus of a panel discussion today, which was hosted by Charlottesville Tomorrow and The League of Women Voters.
Organizers hope to educate the public on how local government works after last summer's events triggered discussion about how the city is managed.
"It is the leagues mission and goal to educate people so that they can be informed voters," Kerin Yates, the president of the League of Women Voters within the Charlottesville area.
Organizers of this panel discussion say it's important for people who live in Charlottesville to understand how their government is structured.
Former Charlottesville City Councilor George Gilliam says the issues might involve the people who serve in government rather than the institution itself.
"There have been some changes over the last 40 years since I served, but I'm not sure that all those changes mandate that we change the institution of arrangements that we've had," Gilliam said.
Charlottesville has a council-manager style of government, meaning that the city manger holds more power than the elected councilors and mayor.
"Maybe we need to have a ward system of electing councilors, rather than an at-large system, maybe we need a strong mayor rather than a strong city manager," Gilliam said.
Other ideas to change the city's government include Charlottesville becoming a town in Albemarle County.
"This is very unlikely to happen, because I've learned that if you reach a population of 50,000, that option is off the table," Yates said.
If any change was to happen, it would require a referendum by voters and possibly approval from the general assembly.
Organizers say this event was purely educational for people to learn about government and ask questions about how Charlottesville would look if it was managed differently.