Charlottesville to Implement Deer Population Management Operation
Posted:
Updated:
Major Gary Pleasants of the Charlottesville Police Department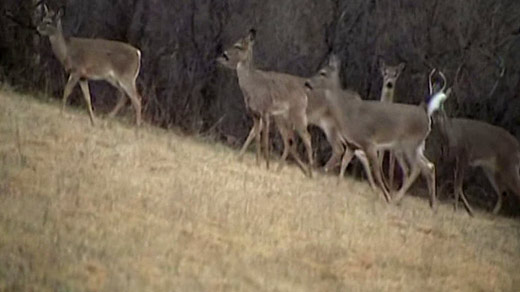 Charlottesville is attempting to curb the deer population
CHARLOTTESVILLE, Va. (WVIR) -
An operation to control the number of deer is about to get underway in Charlottesville.
On Monday, February 12, city hall said the multi-week-long program to curb the deer population will start this month.
Charlottesville is rolling out its deer population management operation. Under the cover of darkness, trained sharpshooters hope to take down between 125 and 150 of this overpopulating animal.
"They will be muffled shots, they will be suppressed rifles, so it won't be as loud as normal," says Major Gary Pleasants of the Charlottesville Police Department.
Sharpshooters will use both bow and arrows as well as rifles to target the animals. They will only be doing this after hours at several Charlottesville public parks.
Last March, City Council moved forward with the deer-curbing plan, citing hazardous driving conditions, health concerns, and environmental factors.
"The council visited on this issue many times over a four-to-five-year arc," says Mike Murphy, assistant city manager.
The program will last six weeks, starting this month and going through March. But police aren't saying which specific nights the sharpshooters will be out in the parks because they don't want spectators to be around the area.
"Only conducted on city property, and it is not for any citizen other than that group to do so," says Murphy.
Blue Ridge Wildlife and Pest Management, LLC scored the contract, which will cost the city $50,000. The company is based in Roanoke and does wildlife management for other cities as well.
"They know what they're doing and know how to shoot, where to shoot," says Pleasants.
When the time comes, the company will coordinate between police and 911 dispatchers. However, police say that if you do hear gunfire during this time period, still give them a call.
The city says all deer meat collected through this operation will be processed and then donated to food banks around the area through a Hunters for the Hungry program.
---
City of Charlottesville Press Release
CHARLOTTESVILLE, VA - The city of Charlottesville will be working with a wildlife management specialist to implement a deer management operation that will begin in February and end in March 2018.
The operation comes as a result of an action of City Council and in response to numerous and sustained complaints about hazardous driving conditions, health concerns stemming from Lyme disease, landscapes being impacted by an overabundant deer population, and the health of the local herd.
The operation will take place in city of Charlottesville parks during nighttime hours. It is expected that approximately 125 deer will be culled as a result of the program. The operation will be carefully coordinated with the Emergency Communications Center and the Charlottesville Police Department.
General questions about the deer culling can be directed to the City Manager's office. The City Manager's Office can be contacted via telephone at 434-970-3101, Monday-Friday, 8 a.m. to 5 p.m.