Tistadt to Retire as Albemarle County Public Schools' Chief Operating Officer
Posted:
Updated: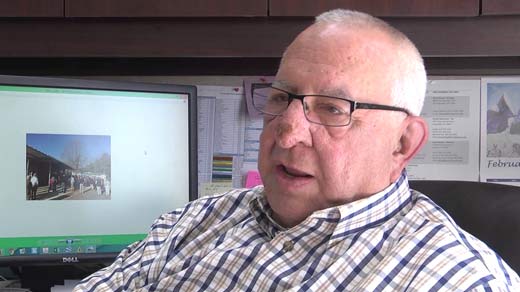 Dean Tistadt (FILE IMAGE)
02/08/2018 Release from Albemarle County Public Schools:
(ALBEMARLE COUNTY, Virginia) – Dean Tistadt, Albemarle County Public Schools' Chief Operating Officer (COO), will retire on June 30, at the conclusion of the current school year. Tistadt has served as COO since July 2013 and is completing a 40-year career as a senior administrative officer with both Albemarle and Fairfax counties.
Tistadt oversees Operations for the school division, including its transportation and building services departments, financial operations, facilities planning, school health services, child nutrition programming, and strategic communications.
Among the major initiatives he has led over the past five years are:
The $35 million school bond referendum approved by voters in 2016;
Improvements in the division's employee health insurance program that have lowered premiums for employees and the school division;
Installation of pay-for-itself LED lighting in all classrooms to enhance the learning environment for students and teachers;
An innovative purchasing agreement for school buses that will reduce costs by $250,000 over five years; and
Construction of a cell tower at Albemarle High School that will improve broadband access for local residents and generate new revenue for the school division.
"It's quite an impressive list," said Deputy Superintendent Dr. Matthew Haas. "Beyond the considerable impact each of these initiatives will have in improving performance and reducing costs is the extraordinary leadership and experience Dean put to work for our students every single day," he added.
Tistadt is a member of Superintendent Dr. Pamela Moran's Operational and Strategic cabinets and the school division's frequent partner with local government on such collaborative objectives as the bond referendum. Dr. Moran said that Tistadt's "technical knowledge and negotiation skills unlocked a great deal of potential among those with whom he collaborated. Many of the items on his accomplishment list only happened because of a new way of
thinking that his colleagues in the school division and in local government brought to problem-solving."
"It has been a rare privilege to be associated with so many exceptionally talented professionals here in Albemarle County, "Tistadt said. "Over many decades of public service, I have been blessed to work with extremely dedicated and skilled staff, first in Fairfax and for the past five years in Albemarle, all of whom are committed to the success of young people. I am particularly in awe of classroom teachers who accomplish such extraordinary goals for their
students," he added.
Prior to joining Albemarle County Public Schools, Tistadt was the COO for Facilities and Transportation Services for Fairfax County Public Schools. His responsibilities there included supervising the daily transportation of 130,000 students; the maintenance of 235 buildings; safety and security; and managing his department's annual operating budget of $220 million.
Haas, who will succeed Dr. Moran as superintendent on July 1, said the school division has begun a national search process for a new COO.