UVA Football Adds Three More Players, 22 Total for 2018 Recruiting Class
Posted:
Updated: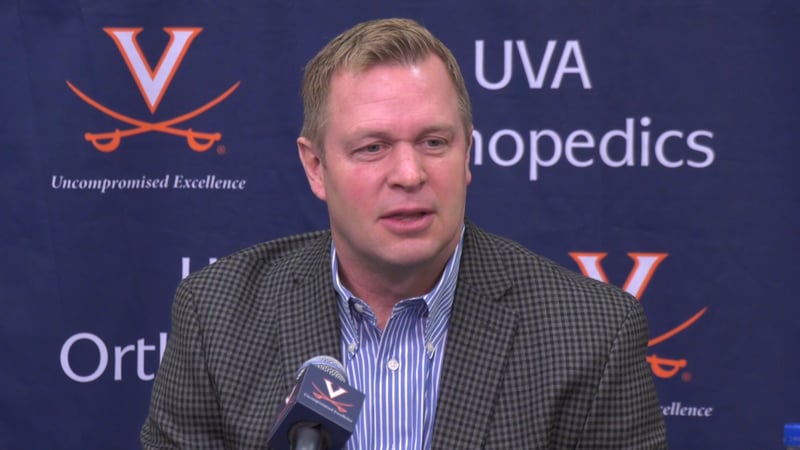 Bronco Mendenhall at today's Signing Day press conference
University of Virginia Media Release
CHARLOTTESVILLE, Va. – The Virginia football program signed 21 student-athletes to National Letters of Intent (NLI) for the 2018-19 academic school year and one grant-in-aid for a graduate transfer, head coach Bronco Mendenhall announced, which brings the total to 22 recruits. Virginia signed three during the February signing period, including one grant-in-aid by a graduate transfer. The Cavaliers previously signed 19 student-athletes in December as part of the new early signing period for football adopted by the NCAA in 2017.
Highlighting the total class are three signees from the Commonwealth of Virginia, while student-athletes from 12 states other states also signed with the Cavaliers. UVA's recruits come from Arizona, Connecticut, Delaware, Florida, Georgia, Hawaii, Maryland, Pennsylvania, Ohio, Tennessee, South Carolina, Texas and Virginia.
The following is a list of individuals who have signed National Letters of Intent to attend the University of Virginia on football grant-in-aid.
Attached is the full recruiting class and player bios:
2018 Football Recruiting Class
February Signees
Name Pos. Ht. Wt. Hometown High School/Previous School
Marcus Applefield* OL 6-5 308 Weeki Wachee, Fla. Weeki Wachee HS/Rutgers
Aaron Faumui DL 6-1 270 Kapolei, Hawaii Kapolei HS
Micah Mariteragi OL 6-2 265 Hauula, Hawaii Kahuku HS
December Signees
Name Pos. Ht. Wt. Hometown High School/Previous School
Brennan Armstrong** QB 6-2 210 Shelby, Ohio Shelby HS
Jaylon Baker DB 6-2 170 Chattanooga, Tenn. Baylor School
Joe Bissinger OL 6-4 300 Houston, Texas Memorial HS
Derek Devine OL 6-6 285 Pittsburgh, Pa. North Allegheny HS
T.C. Harrison LB 6-3 205 Lawrenceville, Ga. Collins Hill HS
Bobby Haskins** OL 6-7 260 Fairfield, Conn. The Hun School (N.J.)
Javar Garrett LB 6-2 205 Newark, Del. The Peddie School (N.J.)
Tavares Kelly WR 5-9 165 Fort Lauderdale, Fla. St. Thomas Aquinas HS
Billy Kemp HB 5-9 170 Highland Springs, Va. Highland Springs HS
Grant Misch LB 6-4 230 Sterling, Va. Potomac Falls HS
Ugo Obasi WR 6-1 180 Baltimore, Md. Milford Mill Academy
Hunter Pearson PK 6-3 200 Seneca, S.C. Seneca HS
Bryce Perkins** QB 6-3 215 Queen Creek, Ariz. Chandler HS/Arizona Western CC
Jordan Redmond DL 6-1 290 Kissimmee, Fla. Osceola HS
Samson Reed DL 6-2 265 Laie, Hawaii Kahuku HS
Noah Taylor** LB 6-5 200 Silver Spring, Md. Avalon School
Wooby Theork-Youmans WR 5-10 170 Naples, Fla. Naples HS
Martin Weisz OL 6-6 305 West Palm Beach, Fla. The Benjamin School
Joseph White DB 6-2 175 Virginia Beach, Va. Landstown HS
** January enrollee
* Signed grant-in-aid
Pronunciation Guide
Aaron Faumui – Fowl -Muy
Micah Mariteragi – Mardi-Turh-rah-knee
Grant Misch – Mish, rhymes with Fish
Ugo Obasi – You-Go, Oh-Bah-See
Wooby Theork-Youmans – Woo-bee, Thee-Ork– Yo-Mens
Martin Weisz – Weiss