James Madison Rallies to Beat Towson 79-73
Posted:
Updated: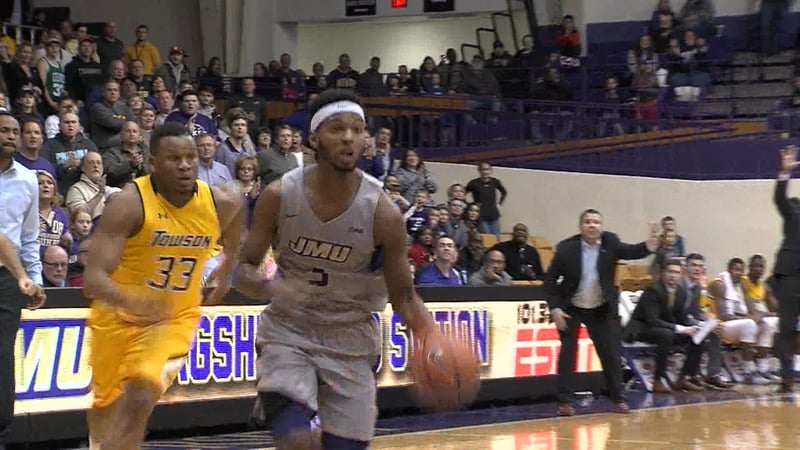 JMU Beats Towson 79-73
James Madison University Media Release
ARRISONBURG, Va. - James Madison shot 61.5 percent (16-of-26) in the second half on Saturday evening, erasing an 11-point second-half deficit on its way to a 79-73 win over Towson in Colonial Athletic Association men's basketball action at the Convocation Center.

The Dukes (7-18, 3-9 CAA) clamped down on defense in the second half, holding Towson (16-9, 6-6 CAA) to just 13-of-33 (39.4 percent) shooting after the break as they outscored the Tigers by a 50-38 margin.

Junior guard Stuckey Mosley erupted for 35 points to lead all scorers, hitting four threes and making eight of his 10 shots from inside the arc to notch his third 30-point game of the season. The performance, just two points shy of his career high, included 26 points in the second half.

Junior forward Develle Phillips matched his career high with 17 points in just 24 minutes, going 8-of-9 from the field and tacking on eight boards, while freshmen Matt Lewis and Darius Banks tallied 13 and 10, respectively. Banks added six boards, four assists, a block and a steal on the evening.

Towson used a 16-6 run early in the second half to push its lead to 51-40 with 12:44 to go, capitalizing off a turnover to pick up a runout layup. The Dukes would not commit a turnover for the remainder of the contest, chipping away at the lead before tying things at 64-64 with 3:30 to play.

The teams would trade baskets, tying things two additional times before the Dukes used baskets in the paint from Phillips and Mosley to key a 6-0 run that gave JMU a 74-68 lead with 32 seconds left. Towson would get at close as three in the final stretch, but the Dukes hit six free throws in the final 22 seconds to seal the win, their third in a row at home.

QUOTING COACH ROWE
"I'm thankful these guys are still fighting. To be down 11 and battle back and get a win out of that fight. They got to play in front of a great crowd that came out for us and show that we're proud to build something like this in front of them. We're excited to keep working on this."

QUICK HITS
- The Dukes shot 52.8 percent (28-of-53) on the evening, their best shooting performance of the season and the fourth-highest percentage of any game under Head Coach Louis Rowe.
- In the only Duke Dog Reading Day game of the men's season, 4,538 fans made it to the Convocation Center, marking the second-biggest home crowd of the season.
- JMU racked up 50 points in the second half for the second game in a row, having scored 52 on Thursday night at Drexel.
- With Saturday's win, 10 of the Dukes' last 11 contests have been decided by single digits or in overtime.

UP NEXT
The Dukes remain at the Convocation Center to start next weekend's action, welcoming UNCW to Harrisonburg at 7 p.m. on Thursday, Feb. 8. On Saturday, UNCW dropped a tough 107-100 decision at Northeastern after forcing overtime on a buzzer-beating three-pointer. The Seahawks bested JMU in a 71-68 decision in Wilmington earlier this season.