Former Skinhead Discusses Importance of Compassion to Charlottesville Community
Posted:
Updated:
Christopher Picciolini speaking on Feb. 3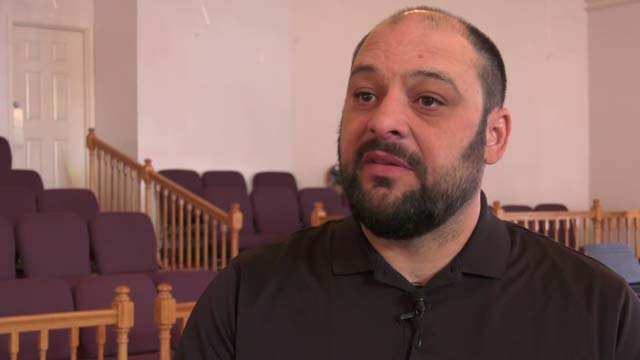 Christopher Picciolini is a former skinhead
CHARLOTTESVILLE, Va. (WVIR) -
People in Charlottesville who were saddened and angered by the Ku Klux Klan and white nationalist rallies that happened last summer are hoping to bring community members together to break the hate.
Organizers say this program, which took place on Saturday, February 3, at Mt. Zion First African Baptist Church, came together in a month after they reached out to a former skinhead who is now a peace advocate.
The organizers hope it brings different perspectives together to combat the hate displayed in downtown Charlottesville last year.
Organizers of the event, which was called Breaking Hate - Countering White Supremacy in our Community, are taking steps to prepare people in the community in case there's a repeat of last summer's events.
"I hope it can bring the community of differing perspectives together, because I think there's been a lot of conflict among community members who are essentially on the same side," says Tara Hodges, one of the organizers of Saturday's event.
Hodges thought it would be helpful to bring in Christian Picciolini because of his background as a former "alt-right" extremist.
"I think that my story can provide some insight on how people get involved in these types of movements, what it's like in the movement, but also what it takes to reach somebody who's there to allow them to humanize people again," says Picciolini, who now advocates for peace.
He says the key to breaking hate is to be compassionate toward people - even if you don't think they deserve it. He says compassion is what helped transform his life.
Picciolini says if people are silent, extremist activities are going to continue to happen. And if people react with violence, it will play into their narrative.
"I hope to inspire the community that we can't be silent, and we can't be violent, we have to be vocal, and we have to be present," says Picciolini. "But that can happen without using the same tactics that they use."
Susan Bro, Heather Heyer's mother, is hoping the community will come together as a whole.
"If we're divided, they've won already," says Bro. "So we've got to figure out how to pull together as a community."
Picciolini says no one knows this community like the people who live here in Charlottesville. His goal for the day's event was to have that awkward and difficult conversation in a civil way and teach people to have compassion for everyone.