Northam Sworn in as Virginia's 73rd Governor
Posted:
Updated: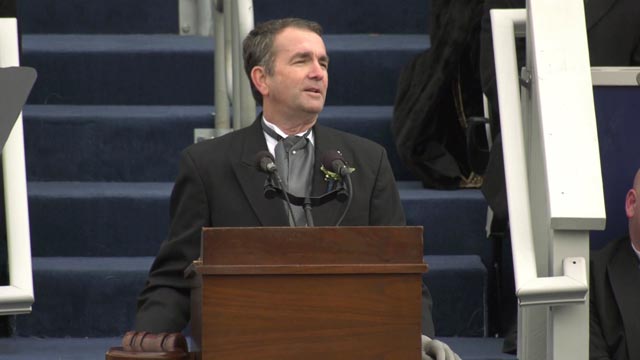 Ralph Northam speaking at Saturday's inauguration
4,000 people were in attendance
RICHMOND, Va. (WVIR) -
People from across Virginia descended on the state capitol in Richmond on Saturday, January 13, to celebrate the inauguration of Virginia's 73rd governor, Ralph Northam.
Saturday's inaugural theme centered on "the way ahead," and 4,000 people crowded into the stands surrounding Virginia's capitol on Saturday to witness the swearing-in of the commonwealth's three top officials.
In his address, Governor Ralph Northam said the history in Virginia is complex - both good and bad.
"This unique heritage endows us with a responsibility to shape the future - to leave this place better than we found it," says Northam.
Much of Northam's message focused on his promise to lead with a moral compass in order to move Virginia forward.
"He's a man who will work across the lines if he has to," says Cleo Usmani, who was in attendance at the inauguration. "He will also veto where he needs to and we need a strong leader like that."
Northam is the second governor in Virginia's history to attend the Virginia Military Institute, and the second governor ever from the Eastern Shore to live in the executive mansion.
"I think he's going to bring a lot of great changes to the state of Virginia," says Willie Randall, a Virginia politician. "I'm really excited about the new team that we have in place."
Some of Northam's plans include addressing gun violence and expanding Medicaid to 400,000 Virginians.
"He's a very inclusive governor and I think he will do great things to bring us unity to the entire state of Virginia," says Randall.
The governor is planning to use his message of hope and unity to work with people on both sides of the aisle to move his agenda forward.
"The guiding principle of this administration will be simple: we will work together to make our commonwealth work better for all Virginians, no matter who they are or where they're from," says Northam.
In his first official act as governor, Northam signed an executive order outlawing discrimination in the state workforce.
It includes protections for gender identity, political affiliation, and national origin. It also directs state agencies to try to recruit minority, women, disabled, and older job candidates.