JMU Women's Basketball Beats Elon 70-67 for Sixth Consecutive Win
Posted:
Updated: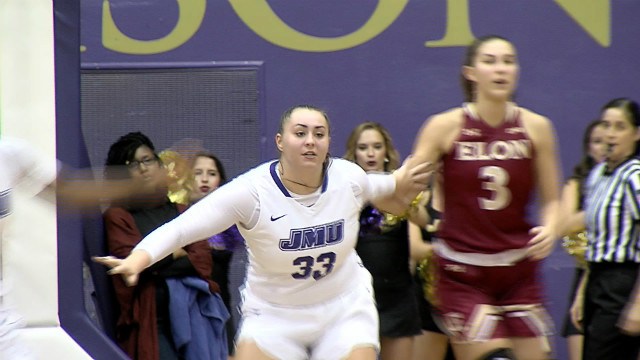 Kelly Koshuta scored 18 points for JMU
JMU Athletics Media Release
HARRISONBURG, Va. – Down 65-63 with 3:07 remaining in the fourth period, sophomore Kamiah Smalls scored seven straight points to extend James Madison's win streak to six games as the Dukes defeated Elon, 70-67, in Colonial Athletic Association women's basketball on Friday.
After entering the fourth quarter tied at 51-51, JMU (9-7, 5-0 CAA) hit six of its nine shots in the final 10 minutes, including all six of its free throws and its only three-pointer, while holding the Phoenix (10-5, 2-2 CAA) to just 26.1 percent (6-of-23) shooting from the field in the final frame.
Smalls led the way for the Dukes, racking up 21 points and eight boards to notch her fourth 20-point performance and her 16th consecutive game scoring in double digits. Sophomore Kelly Koshuta tallied 18 points and five boards across just 29 minutes, while sophomore Lexie Barrier posted 12 points and five rebounds to go with a career-high six assists.
SCORING MILESTONE
JMU scored a season-high 70 points, marking the first time scoring 70-plus points in a game since the Dukes defeated Radford, 80-59, in the WNIT First Round on March 17, 2017.
BACK-AND-FORTH AFFAIR
The Dukes and Phoenix traded leads 13 times throughout the game along with seven ties. Coming out of the half, Elon held a 39-35 advantage but Koshuta scored four points, including a layup with 7:26 remaining in the third period, to even the score at 40.
FOR CONSISTENCY'S SAKE
Senior Hailee Barron came off the bench to make her 117th consecutive appearance for the Dukes, the 10th-longest streak in JMU history. She needs to appear in the next seven games to tie for the top five and eight games to move into sole possession of third all-time.
Barron's three-pointer with 2:38 left in the first quarter was the 120th of her career, just one behind Ashley Perez (2012-14, 14-16) for 10th on JMU's career lists.
BACK ON THE BLOCK
For the sixth time in seven games, the Dukes had at least six blocks in a game, as they turned away seven shots on the evening. Sophomore Devon Merritt led JMU in the effort again, racking up a career-high four blocks, giving her 10 across the last four contests.
Sophomore Kayla Cooper-Williams picked up one block in the win, pushing her career total to 98, tied for 10th in program history with Lauren Jimenez (2007-11). One more moves her into a tie for ninth with Jennifer Brown (2003-05, 06-08) and two makes her just the eighth Duke in program history to reach 100 blocks for her career.
UP NEXT
The Dukes have a bye on Sunday before heading south next weekend to take on College of Charleston (Jan. 19, 6:30 p.m.) and UNCW (Jan. 21, 2 p.m.).