Flag at Staunton's Woodrow Wilson Library Among State's Top Endangered Artifacts
Posted:
Updated: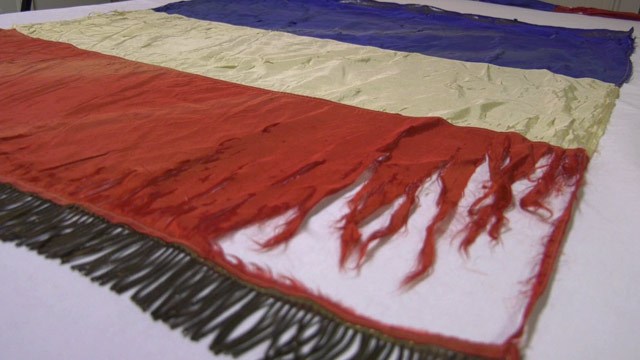 French flag artifact at the Woodrow Wilson Presidential Library and Museum
The French flag that was carried in the Paris Peace Conference Parade in 1919.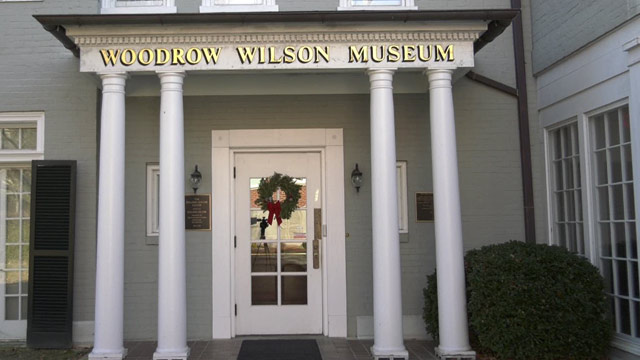 Woodrow Wilson Presidential Library and Museum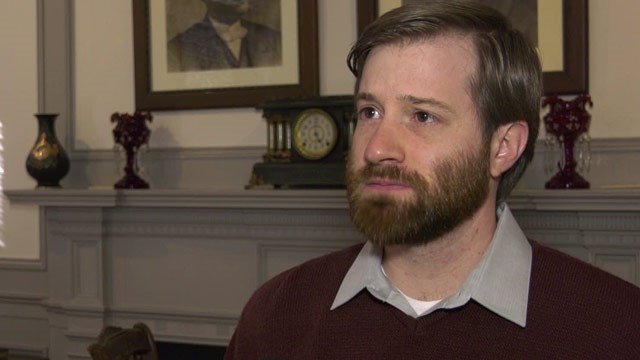 Andrew Phillips
STAUNTON, Va. (WVIR) -
A Staunton museum is recognized for having one of the 10 most endangered historical artifacts in Virginia.
A 1919 French flag owned by the Woodrow Wilson Presidential Library and Museum is named to the Virginia Association of Museums' list.
According the the Virginia Association of Museums:
The French flag was carried in the Paris Peace Conference Parade in June, 1919, celebrating the signing of the Treaty of Versailles and the end of what was then known as The Great War.

A French delegation gave the flag to President Woodrow Wilson, and he kept it in his personal possession after leaving the White House because of its special significance to him.

It was one of the first donations made by Wilson's widow, Edith, to the then Woodrow Wilson Birthplace (now Woodrow Wilson Presidential Library) in the 1930s. The flag was prominently displayed at the Birthplace through the 1980s, but the flag's deteriorating condition forced it to be removed to storage.

As we near the centennial of the Paris Peace Conference and the of World War I, this flag remains as a reminder of Wilsonian idealism- freedom, prosperity, peace, the protection of human rights, and the spread of democracy that has been the hallmark of American foreign policy since the 1940s.
If the flag is selected as the most endangered, the museum will earn $5,000 to put toward its preservation.
"They look at different artifacts from across the state that are in need of repair, in need of conservation, and they have selected 10 that they feel are most in need, and our flag is one of them," said museum curator Andrew Phillips.
The public will be able to vote for which artifact earns that top spot starting January 15.
---
Virginia Association of Museums Press Release:
Richmond, VA - The Virginia Association of Museums (VAM) is pleased to announce the Virginia's Top 10 Endangered Artifacts for 2017 includes the following honorees:
African American Historical Society of Portsmouth (Portsmouth, Virginia);
Birthplace of Country Music (Bristol, Virginia);
Blacksburg Museum and Cultural Foundation (Blacksburg, Virginia);
Edith Bolling Wilson Birthplace Foundation and Museum (Wytheville, Virginia);
Historic Sandusky Foundation (Lynchburg, Virginia);
Museum of the Shenandoah Valley (Winchester, Virginia);
National D-Day Memorial Foundation (Bedford, Virginia);
Office of Historic Alexandria-Alexandria Archaeology Museum (Alexandria, Virginia);
Prince William County Historic Preservation (Dumfries, Virginia);
Woodrow Wilson Presidential Library (Staunton, Virginia)
Ten unique artifacts from across the state and spanning Virginia's extensive history from the 1700 s to 20th century were chosen following a thorough review process by an independent selection committee of collections professionals from partner organizations Library of Virginia, Preservation Virginia, Virginia Conservation Association, and Virginia Department of Historic Resources.

The complete list of artifacts and contact information for each honoree can be found at www.vatop10artifacts.org or download the list of artifacts.
Thanks to a generous donation from the Blandford Rees Foundation, this renowned program will for the first time provide conservation awards totaling nearly $19,000 to the honorees, which will be granted by the selection committee or outcome of the online public voting competition taking place January 15-24, 2018.

The public is invited to help bestow $9,000 of these conservation awards by voting for their favorite endangered artifact at www.vatop10artifacts.org. The two artifacts receiving the most votes will be recognized as the People's Choice Awards and receive $5,000 and $4,000 respectfully to conserve their artifacts and care for its continued preservation.

Says Jennifer Thomas, VAM's executive director, "We're grateful for the opportunity to take our program to the next level during our milestone 50th Anniversary year and further our mission of helping the museum community succeed. This year's selected artifacts exemplify the scope and impact of history found across the Commonwealth of Virginia. From an excavated 18th century merchant ship to a rare radio recording by Ralph and Carter Stanley, some items shed light on the resilience and grace of the human spirit, while others remind us that issues such as women's rights and voter disenfranchisement are not new. In whole, the artifacts bring history to life. And we are proud that our Top 10 Endangered Artifacts program showcases the important work that collecting institutions undertake every day to care for our collective treasures."

Those wishing to make a lasting impact on preserving Virginia's history are encouraged to vote for their favorite artifacts during the Virginia's Top 10 Endangered Artifacts online public voting competition happening January 15 and January 24 at midnight. Vote daily at www.vatop10artifacts.org.

The People's Choice Awards recipients and remaining honorees will be recognized during a special reception at the Virginia Historical Society in Richmond, Virginia on February 21, 2018 at 5:30 p.m. following Virginia Museums Advocacy Day at the General Assembly. They will additionally be acknowledged at VAM's Statewide Annual Conference on March 12, 2018 during an awards luncheon to be held at the Hilton Norfolk The Main in Norfolk, Virginia.
Program Background:
Over the past six years, the Virginia Association of Museums has successfully promoted awareness of collections care and the efforts of museums, libraries, archives, and historic sites across the Commonwealth of Virginia and District of Columbia to care for their cultural and historical treasures, which is an expensive and time-consuming effort. In fact, over a 150 organizations have benefited from participating and the spotlight that the program has provided has generated extensive publicity, new supporters and volunteers, and access to funding to conserve and preserve their artifacts.

Virginia's Top 10 Endangered Artifacts is a project of the Virginia Association of Museums and was originally funded through an Institute of Museum and Library Services (IMLS) Connecting to Collections Statewide Implementation Grant. Due to its success, the program has been replicated in other states and recognized as one of the most successful outcomes of the Connecting to Collections grant program.

Information about past honorees can be found online at VAM's website.


Flag at Staunton's Woodrow Wilson Library Among State's Top Endangered Artifacts

More>>

Pete DeLuca joined the NBC29 News Team in June of 2017 after graduating from the University of Virginia with a B.A. in Media Studies. You can reach Pete via email or follow him on Twitter.

Full Story

Pete DeLuca joined the NBC29 News Team in June of 2017 after graduating from the University of Virginia with a B.A. in Media Studies. You can reach Pete via email or follow him on Twitter.

Full Story