JMU Men's Basketball Falls 81-70 against Northeastern in CAA Opener
Posted:
Updated: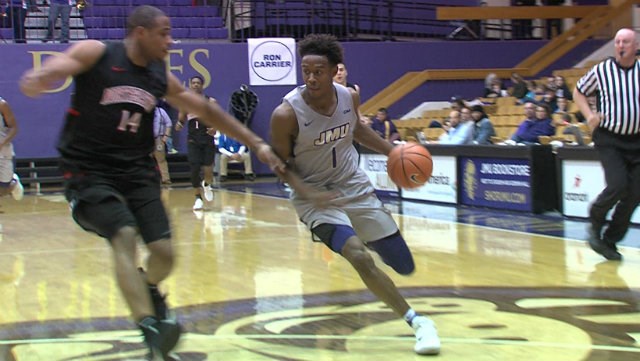 JMU freshman Matt Lewis
JMU Athletics Media Release
HARRISONBURG, Va. - James Madison cut a 16-point lead to four at multiple points in the second half on Saturday evening, but couldn't keep pace with Northeastern as the Dukes dropped an 81-70 decision in both teams' Colonial Athletic Association men's basketball openers at the JMU Convocation Center.

JMU (4-10, 0-1 CAA) could not overcome a sluggish start against the Huskies (8-5, 1-0 CAA), who hit four of their first five three-pointers and shot 40 percent (6-of-15) from deep in the opening half. The Dukes shot just 37.5 percent (24-of-64) on the evening, including a 1-of-9 (11.1 percent) night from three.

Freshman Dwight Wilson turned in his best collegiate performance in the loss with 13 points on 5-of-8 shooting and eight boards in just 18 minutes off the bench. The evening gave Wilson new career highs in points, rebounds and minutes.

Junior Stuckey Mosley continued to produce for the Dukes, putting together 18 points, six assists, five rebounds and a steal across 37 minutes of turnover-free ball, marking his seventh straight double-digit performance, while senior Joey McLean posted an efficient 12-point evening.

Northeastern's Vasa Pusica racked up 31 points to lead all scorers, including 24 in the first half, while Shawn Occeus added 21.

The Huskies jumped out to a 32-16 lead at just the 8:41 mark of the first half, though JMU responded with a 16-4 run that cut things to 36-32 before Northeastern pushed the advantage back to 44-36 at the break.

After the half, the Dukes kept things close until the Huskies used a 10-1 run to take a 63-50 lead with 10:23 to play. JMU battled back again, trimming the gap to 76-70 with 2:07 left, but a pair of missed three-pointers sealed the contest as Northeastern pulled away.

QUOTING COACH ROWE
"We just didn't come out with quite enough energy today. We did some good things, especially in cutting into the lead twice, but we can't spot good teams in our league the lead we did tonight and expect to win. We can build on this, but we need to play the full 40 minutes against a team as strong and well-coached as Northeastern."

QUICK HITS
- Junior Stuckey Mosley led the team in scoring for the 10th time in 14 contests on Saturday, closing the contest averaging 19.7 points per game. His six assists also marked his most of the season.
- The Dukes' 84 percent (21-of-25) performance at the free throw line marked their best performance of the season and the third-best of the Louis Rowe era.
- Saturday's loss snapped JMU's streak of eight straight games decided by single digits.

UP NEXT
The Dukes will remain at home in the new year, continuing their CAA slate with a 7 p.m. bout against William & Mary at the Convocation Center. Earlier today, the Tribe hit a go-ahead three-pointer with eight seconds left to eventually capture a 90-87 win over Hofstra.