DMV Mobile Service Announces Scheduled for January 2018
Posted:
Updated: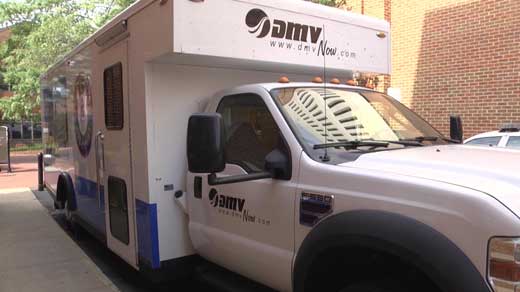 DMV 2 Go (FILE IMAGE)
12/29/2017 Release from the Virginia Department of Motor Vehicles:
The Virginia Department of Motor Vehicles' mobile operation is expanding to serve even more customers in and around Charlottesville and the Shenandoah Valley.
In addition to the mobile customer service centers, called DMV 2 Go, that are traveling across the state, the Shenandoah Valley has a new DMV service outlet – DMV Connect. DMV Connect is a portable outreach program that, like DMV 2 Go, brings services to busy Virginians. Everything DMV Connect needs to operate packs up into a portable suitcase and can be set up anywhere. DMV Connect provides common DMV transactions including driver's licenses; ID cards for children, adults and veterans; vehicle titles and registrations; compliance summaries; disable parking placards and E-ZPass transponders.
A full-service DMV 2 Go mobile office continues to make rounds through Charlottesville and the Shenandoah Valley providing all DMV transactions. Thanks to partnerships with other government agencies, customers may also purchase certified copies of Virginia birth, marriage, divorce, and death certificates, obtain E-ZPass transponders and apply for hunting and fishing licenses on all five mobile offices.
During January, DMV Connect and DMV 2 Go will be open in the following nearby locations:
Date

Location

Address

Hours

1/9

Berryville DMV Select

6103 Lord Fairfax Highway
Berryville, 22611

9 a.m. to 4 p.m.

1/11

Westminster Canterbury - Shenandoah Valley**

300 Westminster Canterbury Drive
Winchester, 22603

10 a.m. to 2 p.m.

1/16

Luray DMV Select

10 Fairlane Drive
Luray, 23835

9 a.m. to 4 p.m.

1/18

Orange DMV Select**

12379 James Madison Highway
Orange, 22960

10 a.m. to 2 p.m.

1/22

The Village at Orchard Ridge**

400 Clocktower Ridge Drive

Winchester, 22603

9 a.m. to 1 p.m.

1/25

Defense Intelligence Agency

2055 Boulders Road, Charlottesville, 22911

9 a.m. to 4 p.m.

1/26

Greene County Administration Building

40 Celt Road
Stanardsville, 22973

9 a.m. to 4 p.m.
**DMV Connect visit. DMV Connect offers all transactions except testing and vital records.
For more details, scheduling information, and most current calendar of upcoming locations, visit www.dmvNOW.com/DMV2Go. To connect with DMV 2 Go on Twitter, use @VirginiaDMV or #DMV2Go.