Albemarle Co. Delaying Possible Action on Relocating Courts Until March 2018
Posted:
Updated: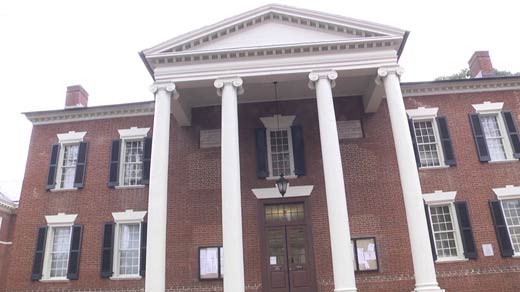 Albemarle Circuit Court (FILE IMAGE)
ALBEMARLE COUNTY, Va. (WVIR) -
Albemarle County supervisors have put any more discussion about potentially relocating its courts out of downtown Charlottesville on hold until March 2018.
It comes after county and city leaders met this week, and they agreed to continue negotiating further parking options for the courts.
Supervisors have also told consulting firm, Stantec, to explore the development of the County Office Building, a performing arts center and a convention center. That's the same firm that weighed the pros and cons of moving the courts.
---
12/20/2017 Release from Albemarle County Communications Coordinator Jody Saunders:
The Albemarle County Board of Supervisors met today to provide staff with direction on desired next steps regarding government operations / courts relocation opportunities. At the meeting, the Board of Supervisors approved the following motion on a 5-1 vote, with Supervisor Dill opposed:
The county will impose a moratorium on further discussions of the courts potential relocation from downtown from today until in response to the letter from the Mayor of the City of Charlottesville.
The board is directing Stantec to continue to explore the development of, and facilities in Albemarle County, such as the County Office Building, a performing arts center, and a convention center.
The County Executive and the County Attorney will resume negotiations on the board's behalf with the City of Charlottesville, on the county's ownership and the county's control of the 7th and Market Street parking lot and other related issues and terms.
Land-use valuation should be recognized in the revenue-sharing formula between the County of Albemarle and the City of Charlottesville.
On Monday, December 18, 2017, staff from the City of Charlottesville and Albemarle County met to discuss the General District Courts. The city requested the meeting as an opportunity to clarify its June 2016 proposal regarding a city/county partnership for downtown courts parking. Those present at the meeting were County Executive Jeff Richardson, County Attorney Greg Kamptner, City Manager Maurice Jones, and City Attorney Craig Brown. Following the meeting, the attached letter was sent from City Mayor Michael Signer to Board of Supervisors Chair Diantha McKeel.
"We want to ensure that all users of county court services have a positive experience," said Board Chair Diantha McKeel. "Adequate and accessible public parking is critically important to a good customer experience, which is why Albemarle County's control and ownership of County courts parking amenities is so important to us."