Downtown Charlottesville to Host 'Holiday Art Crawl' Event
Posted:
Updated: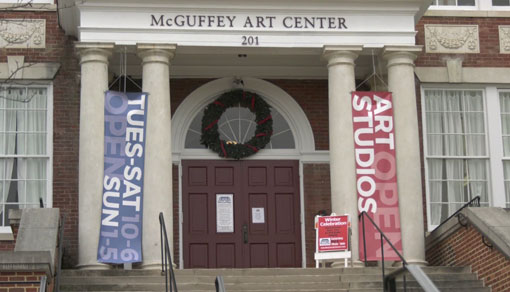 McGuffey Art Center
CHARLOTTESVILLE, Va. (WVIR) -
Saturday, Dec. 9, a family friendly event is happening in downtown Charlottesville that'll allow you to get in the holiday spirit and enjoy art.
The event called "Holiday Art Crawl" will allow you to create art, meet local artist and enjoy classic holiday films. Organizers are making the event fun by allowing you to pick up passports at each participating location to redeem a special treat of hot chocolate after visiting two stops.
"We have just such a rich community of artist and arts organizations here in town … so this is just a great day where we get to encourage each other about the wonderful work we're doing all the time … and just sort of show people a little bit of it," Brooks Wellmon of Light House Studio said.
Events will start around 10 a.m. and last until 10 p.m.
Holiday Art Crawl Info:
December 9th Events
VINEGAR HILL THEATRE
- Open House and Grinch screening (10am-2pm)
- Free Popcorn
- Shows every 30 minutes from 10a until 2pm

MCGUFFEY ART CENTER (10am-1pm)
- Winter Celebration
- Music, Open Studio and Shopping.

CHROMA PROJECTS (1pm-3pm)
Aggie Zed Sculpture Demonstration and Talk Exhibiting

LIVE ARTS Sweet Charity (8pm-10pm)

SECOND STREET GALLERY (4pm-7:30pm)
- Gallery Rally
Gallery Rally is a live drawing party and fundraiser where artists work side-by-side and works go on sale as they are completed.

WELCOME GALLERY (10am-1pm)
- Giftmaking at the Gallery
- Pull your own screenprint or custom order a calligraphy gift tag by a local artist.
- Free Admission, $10 screenprints

NEW DOMINION BOOKSHOP (10:30am-11:30am)
-Holiday Storytime
THE BRIDGE PAI (10am-7pm)
-Gift Forest
-Holiday pop-up shop featuring artists, designers, makers, and collectors from across the region.