#15 Virginia Drops First Game of Season 68-61 at #18 West Virginia
Posted:
Updated: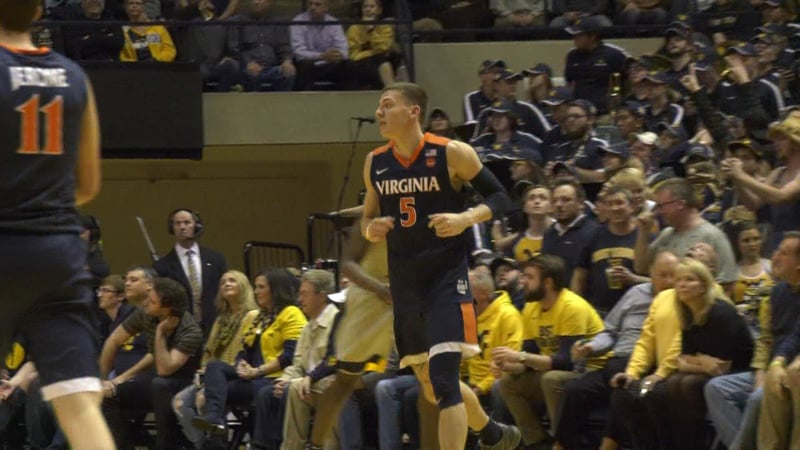 Kyle Scored 18 points on six three-pointers, all in the 2nd half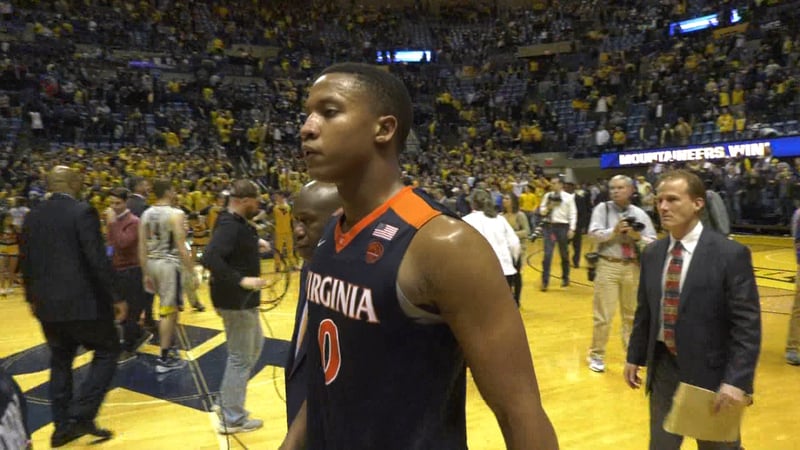 Devon Hall tied a career-high with 19 points
MORGANTOWN, W.Va. (AP) - Jevon Carter had 23 points and 10 rebounds, Lamont West scored 22 points and No. 18 West Virginia beat No. 15 Virginia 68-61 on Tuesday night, sending the Cavaliers to their first loss.
Daxter Miles Jr. added 12 points for the Mountaineers (8-1).
Devon Hall led Virginia (8-1) with 19 points and Kyle Guy added 18, all in the second half.
"We had some mishaps and turnovers," says Hall. "They executed well. That's a good team. We're having to play these games early and to learn early, that's good, even though we lost."
For the second straight year, West Virginia made it difficult for the Cavaliers to get into a consistent offensive rhythm. Guy missed his first six shots, then hit six 3-pointers in the second half as Virginia overcame an eight-point deficit.
"I thought the guys did a good job of finding him," says head coach Tony Bennett. "Devon really had a heck of a game. He kept us in there. Mamadi did. We played well enough to be in there and have a chance but not well enough in those stretches to come away with a win in this setting, against that kind of an intensity and pressure."
"It was a very hectic environment," says Guy. "They were all in our bunk all night, so it was a good test for us, and I'm glad we did this early in the year."
West hit a baseline jumper and a 3-pointer 1:18 apart to break a 56-all tie and put the Mountaineers ahead to stay. After Ty Jerome sank a 3-pointer to trim Virginia's deficit to 61-59 with 2:33 left, West and Carter sealed the win with free throws.
The 68 points were the most allowed by Virginia this season.
BIG PICTURE
Virginia: The Cavaliers came up just short in their first true road game outside the state of Virginia and their first game against a ranked opponent this season. It marked Virginia's first trip to Morgantown since the 1985 National Invitation Tournament.
West Virginia: The Mountaineers found a way to win despite scoring just eight points in the paint, their fewest in that area this season. It's something that could continue to be an issue until forward Esa Ahmad returns from an academic suspension in January.
UP NEXT:
Virginia: Hosts Davidson on Dec. 16, part of a four-game home stand to end the month.
West Virginia: Plays at Pittsburgh on Saturday night, the first Backyard Brawl between the former Big East rivals since 2012.