Festival of the Book Announces Topics, Speakers
Posted:
Updated: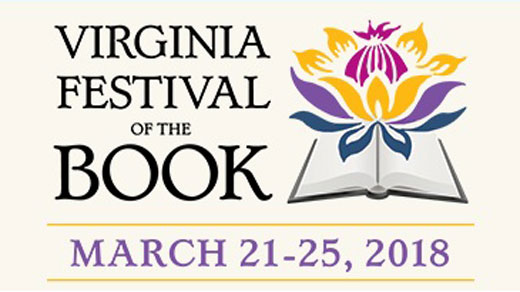 Virginia Festival of the Book
CHARLOTTESVILLE, Va. (WVIR) -
The events of August 12 in Charlottesville will be a topic during one of several new events just announced for the 2018 Festival of the Book.
Three award-winning authors will join poet and University of Virginia professor Rita Dove to discuss their work and obstacles to racial justice.
That's a free, public event on March 25 at the Jefferson School City Center.
A second event, called "In Pursuit of Truth" will feature authors who have written about slaves, the FBI, and fake news.
The 24th annual Festival of the Book runs from March 21-25 in Charlottesville.
___________________________________________________________________________________________________________________________
Virginia Center for the Book Press Release:
December 5, 2017—Charlottesville, Va.—A program of Virginia Foundation for the Humanities (VFH), the twenty-fourth annual Virginia Festival of the Book announced two additional headlining programs for the 2018 Festival, each a unique partnership with a nationally acclaimed literary award.
Working with the National Book Foundation (NBF), the Festival will present finalists and longlisted authors from the 2017 National Book Awards at a public program that will take place on:
Saturday, March 24, 2018, at 8:00 PM at The Paramount Theater
Tickets for this program cost $17.50 ($10 for students) and are now available to purchase at VaBook.org.
Titled "In Pursuit of Truth: An Evening with the National Book Awards" and moderated by NBF executive director Lisa Lucas, the program will feature the following authors:
Erica Armstrong Dunbar, author of Never Caught: The Washingtons' Relentless Pursuit of Their Runaway Slave, Ona Judge, a finalist for the 2017 National Book Award in Nonfiction;
David Grann, author of Killers of the Flower Moon: The Osage Murders and the Birth of the FBI, a finalist for the 2017 National Book Award in Nonfiction; and
Kevin Young, author of Bunk: The Rise of Hoaxes, Humbug, Plagiarists, Phonies, Post-Facts, and Fake News, a selection for the 2017 National Book Award in Nonfiction longlist
In an equally prestigious partnership, the Festival will present 2017 recipients of the Anisfield-Wolf Book Awards, accompanied in conversation by Award jury member Rita Dove, who will share their writing and insights about race and culture, with particular focus on the August 2017 events that took place in Charlottesville.
Sunday, March 25, 2018, at 3:00 PM at the Jefferson School African American Heritage Center
This program is FREE and open to the public.
Titled "Writing the American Story: Diverse Voices in Distinguished Books," the program will feature the following authors in a discussion of their work, reflections on obstacles to racial justice, and writing that helps make the American story a complete story:
Peter Ho Davies, author of The Fortunes and recipient of the 2017 Chautauqua Prize
Tyehimba Jess, author of Olio and recipient of the 2017 Pulitzer Prize for Poetry
Margot Lee Shetterly, author of Hidden Figures: The American Dream and the Untold Story of the Black Women Mathematicians Who Helped Win the Space Race and winner of the NAACP Image Award for Nonfiction