Wildlife Grant Program Awards $55k to Connect Youth to Outdoors
Posted:
Updated: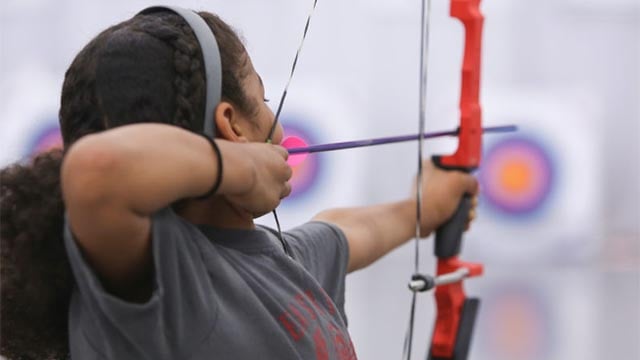 Photo courtesy of the Department of Game & Inland Fisheries website
RICHMOND, Va. (AP) - The Virginia Wildlife Grant Program has awarded more than $55,000 to fund 27 projects to connect youth to the outdoors.
Projects include fishing, archery, wildlife viewing, boating, shooting sports, hunting and trapping.
The program began in 2014 and provides a funding source to nonprofits, schools and government agencies. Over the last four years, the program has funded 128 projects.
The Wildlife Foundation of Virginia contributed $5,000 to the grant program this year. Executive Director Jenny West said connecting children to Virginia's natural resources and outdoor sporting opportunities is one of the most impactful ways the organization can make a difference.
Copyright 2017 The Associated Press. All rights reserved. This material may not be published, broadcast, rewritten or redistributed.
---
From the Department of Game & Inland Fisheries website:
The following organizations received 2017 awards and program activity dollar amounts included:
Archery – $7,507 (4)
Boating – $8,397 (4)
Fishing – $10,520 (4)
Hunting – $3,300 (2)
Shooting Sports – $3,325 (2)
Trapping – $2,500 (1)
Wildlife Viewing – $19,466 (10)
Archery
Amherst County Department of Planning and Zoning
Mecklenburg County 4-H
Orange County Parks and Recreation
The Greenbow Foundation
Boating
BSA Sea Scout Ship 1935
James River Park
Hoffler Creek Wildlife Foundation
The Friends of Hungry Mother State Park
Fishing
Friends of Reston for Community Projects
Lloyd C. Bird High School
Blue Ridge Discovery Center
Patrick Henry High School
Hunting
King George Outdoor Club
Virginia Hunter Education Association
Shooting Sports
Scott County Outdoor Team
Goochland 4H Shooting Education
Trapping
Virginia Trappers Association
Wildlife Viewing
Apple Ridge Farm, Inc.
Virginia Association for Parents of Children with Visual Impairments
Blue Ridge Discovery Center
Halifax County FFA
Laurel Lane Elementary School
Loudoun County Public Library
Maymont Foundation
New River Land Trust
Pinchbeck Elementary School
Gap4Lyfe Mentorship Program, Inc.