McGuffey Art Center to Hold Annual Winter Celebration
Posted:
Updated: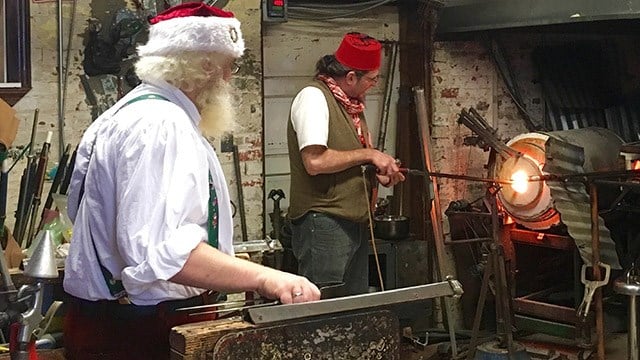 2016 Glass Blowing exhibition
2016 Winter Celebration
McGuffey Art Center Media Release:
McGuffey's Winter Celebration is a day of family activities, music, glassblowing, shopping, art demonstrations and donuts. On December 9, 2017 from 10 a.m. to 1 p.m. at McGuffey Art Center, 201 2nd St NW, Charlottesville, VA 22902.
The Event
McGuffey Art Center's Resident and Associate Artists join forces to bring this Winter Celebration to the Charlottesville public. Art Studios will be bustling with demonstrations and hands-on activities for all ages. The main gallery and halls are filled with members' art work, all of which is available to purchase for gifting (or to spruce up your own home) this holiday season.
Available artworks include ornaments, cards and jewelry, small and large paintings, photographs, fiber art, and more. Glassblown ornaments will be made on site. There will be singing, juggling, and food too! A great way to kick off your celebrations is to come to ours!
Proceeds from art sales benefit the individual artists as well as McGuffey's outreach programs
Free entrance and celebration activities will be from 10 a.m. – 1 p.m.; the art center and shopping gallery will be open until 6 p.m.

About McGuffey Art Center
McGuffey Arts Association is a community of over 150 artists dedicated to practicing their arts and to passing on the creative spirit. Forty-seven artists work in rented studios in the McGuffey Art Center, conveniently located just off the Downtown Mall.
Over one hundred artists have studios elsewhere, and six rotate each year as incubator members, creating circles of financial and artistic connections throughout Charlottesville, central Virginia and beyond.
We regularly provide exciting and free opportunities for the community to participate in the creative process through access to open studios, exhibitions and performances, classes, tours, and outreach projects.
Visit http://www.mcguffeyartcenter.com for images and more information.