Governor McAuliffe Announces 2 New Tours for German Travelers
Posted:
Updated: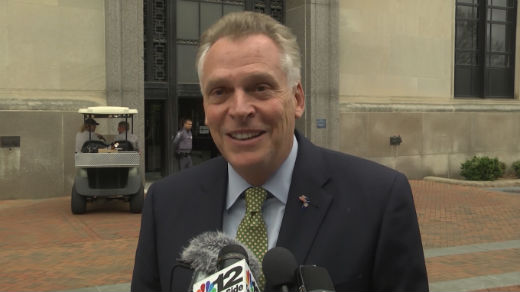 Virginia Governor Terry McAuliffe (FILE IMAGE)
11/13/2017 Release Commonwealth of Virginia Office of Governor Terry McAuliffe:

FRANKFURT – Governor Terry McAuliffe today announced a new partnership with CANUSA TOURISTIK, United Airlines, and the Metropolitan Washington Airports Authority (MWAA) on two exclusive travel packages. The new tour itineraries, available for booking nationwide in Spring 2018, will combine Virginia's exquisite scenic byways, mountain and coastal scenery, and historic attractions with its expansive craft beer offerings on one itinerary, and its refined luxury accommodations on the second. Secretary of Commerce and Trade Todd Haymore made the announcement on behalf of Governor McAuliffe while in Germany on the last stop of the Governor's 35th trade and marketing mission.

"Germany is the second largest European overseas market for tourists visiting Virginia, exceeded only by the United Kingdom," said Governor McAuliffe. "With six nonstop daily flights from Germany to Virginia's Dulles International Airport, access to Virginia is easier than ever before. We look forward to welcoming even more visitors to the commonwealth and showing them all that Virginia has to offer thanks to these new tour opportunities."

Virginia is well-known in America for its iconic "Virginia is for Lovers" brand which speaks to a visitor's love of vacations, memorable experiences, and time with family. With this new partnership, Virginia is looking to attract more holidaymakers from Germany to America. The commonwealth is an attractive U.S. East Coast travel destination for tourists from around the world and Germany has ranked in the top five in overseas visitor statistics for Virginia for the last several years.From the famous Shenandoah National Park and the Blue Ridge Mountains in the west, to the long sandy beaches along the Atlantic coast and the Chesapeake Bay in the east, there is a wide range of attractions, culinary hotspots, and sites of significant American history across the entire state.

"Virginia truly is for lovers – lovers of life, and fun times with friends and family, and an ideal travel destination, as the more than 184,000 German travelers to the Commonwealth last year can attest," said Secretary of Commerce and Trade Todd Haymore."With international tourism on the rise and expected to reach 1.8 billion visitors by 2030, we know how important it is to our economy to promote Virginia's many assets overseas. Our luxury offerings and booming craft beer scene are just two of the highlights that continue to put Virginia on the map for overseas travelers. We are thrilled to partner with United Airlines and CANUSA TOURISTIK to show more Germans the exciting potential of a Virginia vacation."

German visitor spending increased by more than $66 million in 2016 to $220 million, a 43.4 percent increase over 2015 figures. Last year, 74 percent of German visitors to the national capital region were leisure visitors spending an average of more than nine nights, up from more than seven nights in 2015. In 2016, Virginia and the national capital region attracted nine percent of all German visitors to the United States, increasing the region's market share by 1.14 points.

"We are delighted to be able to offer our customers two new exciting and exclusive tours through the Commonwealth of Virginia. This cooperation represents a new milestone in our long-standing partnership, as we will be the only tour operator offering these beer and luxury tour itineraries in the German market," said Tilo Krause-Dünow, founder and CEO of CANUSA TOURISTIK.

The airline partner for this tourism initiative is the U.S.-based airline, United Airlines, which in May 1990 began nonstop service from Frankfurt to Virginia's Dulles International Airport (IAD), laying the foundations for the growing international tourist visitation to the national capital region. In June 1998, this service was followed by the daily connection from Munich to Washington Dulles, which will celebrate its 20th anniversary in 2018.

"Together with our partner, Lufthansa, we fly nonstop up to six times a day from Frankfurt and Munich to Washington Dulles International Airport," added Wolfgang Manner, Sales Manager Germany of United Airlines. "In addition, there are numerous connections via the European gateways such as Vienna, Zurich, Paris, Amsterdam or London with our Codeshare partners, so that there is a convenient connection to Virginia from practically all airports in Germany."

Dulles International Airport provides convenient nonstop connections worldwide. IAD has one of the fastest entry times among U.S. airports thanks to the use of security checks and numerous passport kiosks. In addition, IAD boasts countless amenities, including: local shops and stores of well-known brands, duty-free shops, and award-winning restaurants run by famous chefs such as Wolfgang Puck and Michael Symon.

"United Airlines is the number one airline for both international and domestic flights at Washington Dulles International Airport," said Mike Stewart, Metropolitan Washington Airports Authority's Vice President of Airline Business Development. "On the nonstop routes between Germany and IAD alone, United has carried nearly 11 million passengers since its inception."

More information about the two new touring opportunities is below. The craft beer and luxury tours can be booked beginning in Spring 2018 by visiting www.canusa.de and in the seven CANUSA offices in Germany. An initial overview of the itineraries with price examples is also available on the CANUSA website.

Craft Beer Tour: Enjoying it through Virginia
Beer has been brewed in Virginia since the first permanent settlement was established in Jamestown. Today – nearly 400 years later – more than 225 craft breweries provide a delicious variety of hops and malt. The eight-day Craft Beer Tour will take tourists to the hot spots of brewing in Virginia. The tour begins in Alexandria, directly opposite Washington, D.C., on the Potomac River, where the craft beer scene can be explored on guided tours or on one's own initiative with the help of the "Pub Guide." History and enjoyment are combined on the next stages of the journey in Manassas, where breweries are located near the National Battlefield Park – an important site of the Civil War, and the nearby town of Fredericksburg, where President George Washington spent his youth. Tourists will also visit Virginia's capital city of Richmond where they will participate in "History on Tap," a cooperation where local breweries and distillers brew and distill according to old recipes which come from historical documents. Visitors are then led to Jamestown and back to America's origins, including the ruins of Virginia's first brewery. After visiting Williamsburg, the coastal town of Virginia Beach stands on the itinerary, which combines the pleasure of craft beer with local delicacies, ending the journey with relaxation on long, sandy beaches.

Luxury Tour: Holiday experiences at the highest level
Five-star resorts with relaxing spa areas, challenging golf courses, more than 280 wineries and eight oyster regions provide the perfect setting for discerning vacationers. The six-day round trip to exceptional hotels and unforgettable moments begins in Loudoun County, also well-known as DC's Wine Country at the Salamander Resort and Spa. Surrounded by beautiful countryside, the hotel offers a special experience: whether it is a mixture of yoga and riding lessons, a cooking class, or shopping in the exclusive boutiques in the center of Middleburg. On the way to Charlottesville, tourists can drop in at the Michelin-starred restaurant The Inn at Little Washington. The historic Boar's Head Inn pampers its guests in the luxurious spa area and Old Mill Room Restaurant, housed in a flour mill built in 1834. A hot air balloon flight, fly-fishing, and a tour of the surrounding vineyards or the former country home of Thomas Jefferson, Monticello, are just some of the ideas for a fun-filled itinerary in and around Charlottesville. A visit to the capital of Virginia – Richmond – and the historic Jefferson Hotel is included on this tour. Unspoiled nature, golf, riding, and spa facilities are the main focus at the last stop in the Kingsmill Resort in Williamsburg.

To learn more about visiting Virginia, please visit www.virginia.org.