JMU Football Defeats Richmond 20-13 for 22nd Consecutive Victory
Posted:
Updated: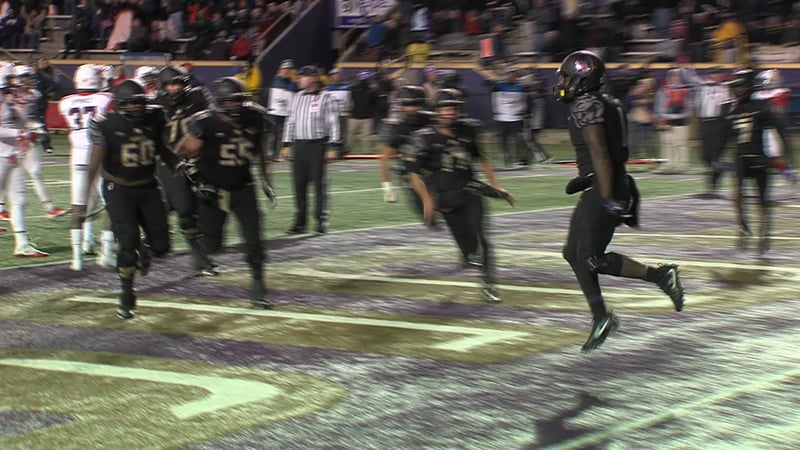 Trai Sharpe scored the game-winning TD
JMU Athletics Media Release
HARRISONBURG, Va. – Junior running back Trai Sharp scored the game-winning touchdown with 44 seconds remaining and top-ranked James Madison survived a Colonial Athletic Association thriller, 20-13, against rival Richmond in front of 24,586 on Saturday night at Bridgeforth Stadium/Zane Showker Field.

The win extended JMU's win streak to a Division I-best 22 straight games and a CAA-record 17th straight conference win. The Dukes moved to 10-0 on the year and 7-0 in CAA play to clinch at least a share of the conference title for the third straight season. The Spiders fell to 5-5 overall and 3-4 in league play.

QUICK HITS
Tied up at 13-13, JMU ventured on a 10-play, 71-yard drive in which Sharp accounted for 54 rushing yards, capped off by his fourth rushing score of the year. He finished the game with a team-high 60 rushing yards.
Senior quarterback Bryan Schor threw for 229 yards, with 18 completions on 32 attempts. He moved into third all-time at JMU in career completions, with 458. Schor needs 14 more passing yards to move into second all-time in program history.
Junior receiver David Eldridge and redshirt senior receiver Ishmael Hyman led the way by combining for over 150 receiving yards. Eldridge had a career-high 81 yards off four catches, and Hyman also had four grabs for 70 yards.
Redshirt senior safety Raven Greene paced the defense with 11 tackles, while junior corner Rashad Robinson had eight stops and a half-sack. Senior defensive lineman Cornell Urquhart had a team-high 1.5 sacks and redshirt senior safety Jordan Brown collected his team-leading sixth interception of the year.
JMU tallied four sacks in the win, marking the fifth straight week JMU produced four or more sacks.
Richmond, which entered Saturday leading the CAA in total offense (470.3) and ranking second in scoring offense (33.3), was limited to 324 yards of offense and just 13 points. The Spiders managed only 20 rushing yards, averaging 1.1 per carry.
The win was the first by a home team in the series since JMU's 38-31 win in 2013. The Dukes have won four of the past five meetings against the Spiders.
SCORING SUMMARY
After a scoreless first, Richmond got on the board early in the second on a Kyle Lauletta nine-yard touchdown pass to Tyler Wilkins, who turned in a career-best 12 receptions for 180 yards.
JMU answered with a touchdown on the ensuing drive, as junior running back Marcus Marshall scored from four yards out to tie it at 7-7 with 6:30 left in the half.
JMU took a 10-7 halftime lead on a 24-yard field goal by redshirt freshman Ethan Ratke with 40 seconds left.
UR tied it at 10-10 late in the third on a 38 yarder by Griffin Trau.
JMU recaptured the lead, at 13-10, with 13:12 left in the game on a 36-yard field goal from Ratke. The Spiders knotted it back up at 13 apiece on a Trau 36-yard kick.
The Dukes finished the game with a 10-play, 71-yard drive, as Sharp carried much of the load with 54 yards on the ground. He finished off the go-ahead drive with a touchdown from seven yards out with only 44 seconds remaining to seal the win for JMU.
WHAT THE WIN MEANS
Won at least share of CAA title after Elon lost to New Hampshire – first time in school history with three straight conference titles
A win next week secures program-record second straight outright CAA crown
Extended NCAA Division I-best win streak to 22 straight games, which is tied for fourth in FCS history, matching Harvard (22 – 2013-15).
CAA-record 17th consecutive conference win
23 straight wins against FCS teams
18 straight regular-season wins
14 straight wins at Bridgeforth Stadium
Back-to-back 10+ win seasons for first time in school history
UP NEXT
JMU closes the regular season at No. 7 Elon next Saturday, Nov. 18. Kickoff is set for noon at Rhodes Stadium. The Phoenix are 8-2 overall and 6-1 in league play.