Albemarle County Woman Wins $5 Million in Virginia Lottery
Posted:
Updated: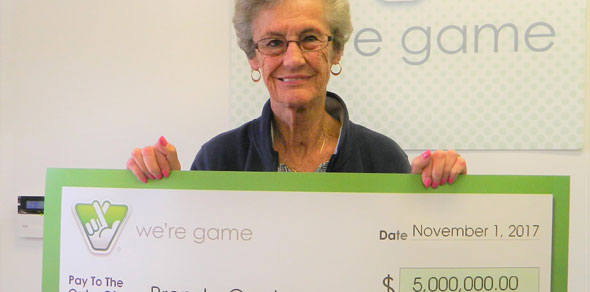 Brenda Gentry
ALBEMARLE COUNTY, Va. (WVIR) -
Release from Virginia Lottery:
You might say Brenda Gentry is on a winning streak. Just a few weeks ago, she won $5,000 playing a Virginia Lottery scratcher game. Immediately after that she won $500.
Then came the big one. The Troy woman bought a 50X the Money ticket at Fortune Food Mart, 1301 East High Street in Charlottesville, scratched it, and won the $5 million top prize.
She said she immediately called her husband and then put the ticket in a safe place until she could redeem it on her next day off work.
Ms. Gentry had a choice of taking the full $5 million in annual payments over 30 years or a one-time cash option of $2,808,989 before taxes. She chose the cash option. The store receives a $10,000 bonus from the Virginia Lottery for selling the winning ticket.
"This has been a little nerve-wracking because I don't want it to change my life," she said.
She's the third and final player to win the $5,000,000 prize in 50X the Money (game #1612), which means the game is closed. It is the Virginia Lottery's policy to close games once the last top prize is claimed. The odds of winning the top prize in this game were 1 in 1,632,000. The odds of winning any prize in 50X the Money were 1 in 3.07.
When it comes to education, the Virginia Lottery is game. Ms. Gentry bought her winning ticket in Charlottesville, which received nearly $2.6 million in lottery funds for K-12 education last fiscal year. For more information and a complete list of lottery funds to Virginia school districts, click here.
The Lottery generates more than $1.5 million per day for Virginia's K-12 public schools. Operating entirely on revenue from the sale of Lottery products, the Lottery generated more than a half-billion dollars for Virginia's public schools in Fiscal Year 2017. For more info, visit our website, like us on Facebook, follow us on Twitter and Instagram, and check us out on YouTube. Please play responsibly.