Ben Cline Announces Bid for 6th District Senate Seat
Posted:
Updated: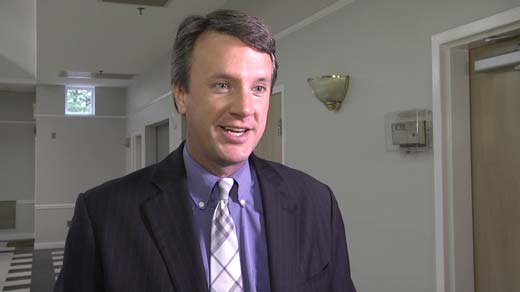 Ben Cline
Ben Cline for Congress Press Release:
(LEXINGTON, VA) - Fed up with the dysfunction gripping Washington, Ben Cline today announced his intention to run for the open seat in Virginia's 6th Congressional District. The announcement comes on the heels of Congressman Bob Goodlatte's retirement decision.
"For far too long, Washington insiders have ignored families outside their insular 'Beltway'. Again and again they have proved they are out of touch and tone deaf to our struggles. I'm not afraid to take a stand and fight for the people I serve, and I'm hoping to continue that service in Congress," Cline said.
Earlier today, Congressman Goodlatte announced his retirement at the conclusion of his 2018 term.
"We should all thank Bob for his service to the Commonwealth and to our country," added Cline. "But we can't take this seat for granted. The Democrats are emboldened by recent victories and we can't allow them to seize this seat for Nancy Pelosi."
Cline has carved a conservative path in the House of Delegates, where he has consistently been re-elected with over 60% of the vote. He stood up to his own party leadership when they pushed to join Democrats to increase taxes. As House Chairman of the Conservative Caucus, he's fought to clean up the bureaucratic waste and political cronyism that grips our system. His efforts have earned him the American Conservative Union's (ACU) "Conservative Excellence Award" as well as an A+ rating from the NRA.
"Now more than ever we need principled, conservative, fighters in Washington who are ready and willing to shake up the status quo. I'm ready to answer the call, because families back here deserve nothing less," Cline stated.
Currently, Cline represents the 24th House of Delegates District, which includes Lexington, Buena Vista, all of Rockbridge and Bath counties, and parts of Amherst and Augusta. While serving in the General Assembly, he also served as an Assistant Commonwealth's Attorney. Prior to his General Assembly service he owned a small business providing marketing assistance to rural internet and high-tech firms, as well as serving as a top aide to Congressman Bob Goodlatte.
Cline practices law in Lexington and lives in Rockbridge County with his wife, Elizabeth, where they are raising their two daughters. Cline is a member of the Kerrs Creek Ruritan Club and the Lexington Lion's Club. The family attends St. Patrick's Catholic Church.