Congressman Bob Goodlatte Will Not Seek Re-Election
Posted:
Updated: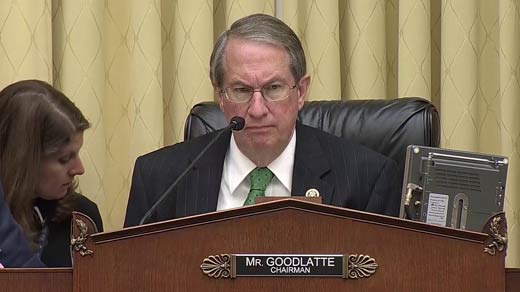 File Image: Congressman Bob Goodlatte
WASHINGTON (AP) - Another House committee chairman is planning to retire.
Republican Rep. Bob Goodlatte is chairman of the House Judiciary Committee and a 13-term congressman from Virginia.
In a statement Thursday, he says it's "the right time for me to step aside and let someone else serve the 6th District." See the full statement below.
Goodlatte's tenure as chairman of the judiciary panel ends in December 2018 due to term limits. He describes the marker as the "natural stepping-off point" and a chance to begin a new chapter.
The 65-year-old Goodlatte is among several other longtime House committee chairmen who have announced plans to retire at the end of their term, including Jeb Hensarling of Texas, who heads the financial services panel, and Lamar Smith of Texas, the science committee chairman.
Copyright 2017 The Associated Press. All rights reserved. This material may not be published, broadcast, rewritten or redistributed.
---
Congressman Bob Goodlatte Media Release:
Congressman Bob Goodlatte (R-Va.) released the following letter today announcing that he will not seek re-election in 2018:
Dear Friend,

When I first decided to run for Congress there were several things I wanted to achieve for the Commonwealth of Virginia and our nation. I had a strong passion for public service, a love of the law and the judicial system, and a deep appreciation for the people who call western and central Virginia home. These passions led me to serve on the Judiciary and Agriculture Committees throughout my time in the House, and have shaped my work on policies impacting the American people. I've had the privilege to serve as Chairman of both of these committees, and I've been proud to work on policies that have become law and advance fiscal conservatism, personal liberty, economic growth, and limited government.

For the past 25 years, it has been my honor to represent the Sixth Congressional District of Virginia. I cannot begin to express how blessed I am to have had the opportunity to serve and take part in the great experiment of self-government envisioned by our Founders. It has been a labor of love to work countless hours and travel endless miles on the roads of our District for a quarter of a century.

Every two years, Maryellen and I sat down to discuss whether to run again or not. When we discussed the 2018 election, the conversation ended a little differently than in past years. After much contemplation and prayer, we decided it was the right time for me to step aside and let someone else serve the Sixth District. I will not seek re-election. With my time as Chairman of the Judiciary Committee ending in December 2018, this is a natural stepping-off point and an opportunity to begin a new chapter of my career and spend more time with my family, particularly my granddaughters.

While I'm not running for re-election, my work in the 115th Congress is far from done. There is much that I hope we can accomplish in the next year, including: bolstering enforcement of our immigration laws and reforming the legal immigration system, simplifying the tax code in order to stimulate job growth and benefit families in the Sixth District, enacting criminal justice reform, repealing Obamacare, advancing protections of the freedoms and liberties enshrined in our Constitution, and, of course, continuing first-class constituent service for the citizens of the Sixth District. I look forward to working with the House Leadership, the Senate, and President Trump in bringing real conservative change to our country.

I extend my deepest thanks to the people of Virginia's Sixth District who have placed their trust in me. It is truly you who are the highlight of my time in elected office. I've had the good fortune of having an amazing staff team during my time in Congress – both in my Sixth District offices as well as in the Judiciary and Agriculture Committees. They've done excellent work, and I greatly value their commitment to serving the Sixth District and the American people. I'd also like to thank my colleagues on both sides of the aisle in Congress with whom I've had the opportunity to work over the years. I genuinely appreciate your friendship and support. And finally, none of this would have been possible without the love and support of my wife, Maryellen, and our children, Bobby, Jen, and Jen's husband, Matt. They have my enduring love and gratitude.

I look forward to what the next chapter brings.

Sincerely,

Bob