Albemarle Co. Community Can Weigh in at School Redistricting Meeting
Posted:
Updated: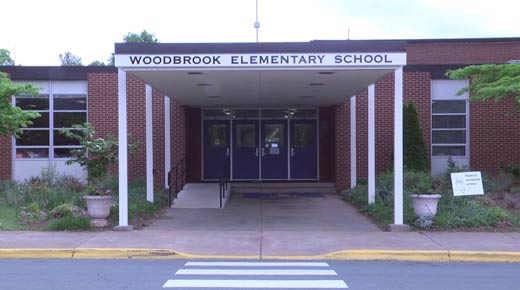 Woodbrook Elementary School
ALBEMARLE COUNTY, Va. (WVIR) -
Wednesday, Nov. 7, is the community's chance to tell Albemarle County school leaders what they think about elementary school redistricting.
The School Division's Redistricting Advisory Committee is looking at three options to address overcrowding.
Right Now, Greer Elementary is over-capacity by about 100 students, Agnor-Hurt Elementary is at capacity, and Woodbrook Elementary is expanding.
The community meeting on redistricting is Wednesday at Agnor-Hurt Elementary School. It starts at 6:30.
Release from Albemarle County Public Schools:
(ALBEMARLE COUNTY, Virginia) – Community members will get their first opportunity next week to formally review three options for redistricting up to 200 elementary school students in Albemarle County's urban ring. The Albemarle County school division's Redistricting Advisory Committee will hold a public meeting in Agnor-Hurt Elementary School's cafeteria on Wednesday evening, November 8, beginning at 6:30 p.m.
The committee has been meeting since early September to research, evaluate and develop ideas on how best to relieve current and projected overcrowding at Agnor-Hurt and Greer elementary schools and to consider middle school assignments that might result from the relocation of students from Agnor-Hurt and Greer to a newly-expanded Woodbrook Elementary School.
Following the meeting next week, the advisory committee will meet on November 13 and 27 to refine their ideas and turn them into specific recommendations to Superintendent Pamela Moran. Dr. Moran will consider the committee's proposal in shaping her recommendations to the School Board in December. The Board will hold a public hearing in January and decide by February of next year on any changes in attendance zones for elementary and middle schools.
"Our primary goal is to provide all students with the most effective learning environment," said Rosalyn Schmitt, the school division's Director of Budget and Planning. "Student enrollments are continuing to expand in the urban ring, making it essential for us to come up with solutions now that provide all students with sufficient space to learn at their highest levels," she said.
At next week's meeting, attendees will be able to review all the information the advisory committee has analyzed in arriving at three possible options. The options are not recommendations, Schmitt pointed out, but a starting point to gather community feedback.
The first option would move 138 students from Greer to Agnor-Hurt and 217 students from Agnor-Hurt to Woodbrook. Students who live in the areas of Townwood/Squirrel Path, Turtle Creek, Landmark at Granite Park, and East Rio Road would be affected.
A second option would move 104 Greer students who now live in the areas of Turtle Creek and Landmark at Granite Park to Woodbrook. Also under discussion is moving 48 Greer students who live north of Lambs Road to Broadus Wood.
Finally, a third option would relocate 34 Greer students to Agnor-Hurt; 104 Greer students to Woodbrook; and 72 Agnor-Hurt students to Woodbrook. This scenario would affect students who live in the areas of Townwood/Squirrel Path, Turtle Creek, Landmark at Granite Park, Minor Ridge, Rio Wakefield to Pine Haven, and Branchlands.
"Community engagement with decisions that so directly affect families is a very valuable asset for the school division," Schmitt said. "The advisory committee, which includes parent representatives from all the urban ring elementary and middle schools, has been both thorough and thoughtful in their evaluations and discussions. They have been tremendously helpful in ensuring that the best possible decisions are made for students," she added.
The addition at Woodbrook will double the school's capacity to 610 students. Currently, Greer is over capacity by more than 100 students, and Agnor-Hurt is at capacity. Schmitt said that one of the goals of any redistricting solution would be to serve the space needs of urban ring students into the next decade.
More detailed information on the various options that will be presented next week, including maps of the areas that would be included, is available at:
https://www2.k12albemarle.org/acps/division/superintendent/redistricting/Pages/Current-Projects.aspx
An online survey will be at the above web link beginning next Thursday, November 9, and paper copies of the survey will be available at all urban ring elementary and middle schools and at Broadus Wood. Members of the community also can ask questions or offer comments on the various proposals at any point in the process by sending an email to rac@k12albemarle.org.
Enrollment changes approved by the School Board will take effect next August, when the Woodbrook addition will be completed. A transition plan to support families with students who would be relocated to a new school will begin right after the School Board decision.