JMU Football Sets CAA Record for Consecutive Wins, Beats Rhode Island 38-3
Posted:
Updated: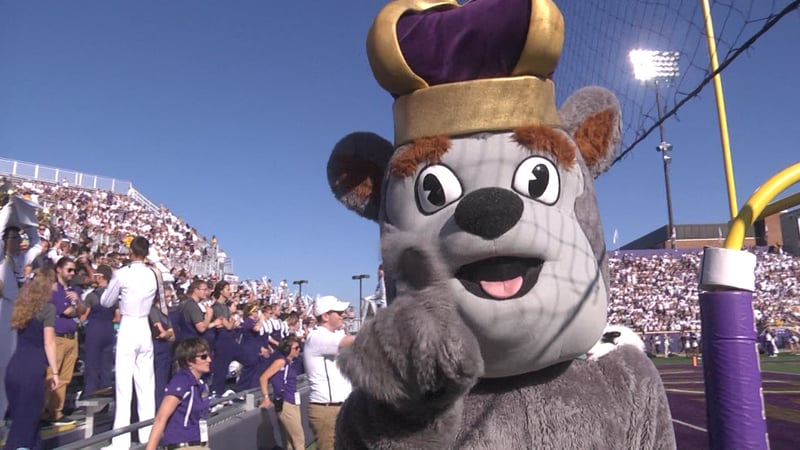 JMU beats Rhode Island 38-3
James Madison University Media Release
KINGSTON, R.I. – Senior quarterback Bryan Schor threw four touchdown passes and No. 1 James Madison used a 31-0 run in the second half to roll past Rhode Island 38-3 in Colonial Athletic Association football on Saturday afternoon at Meade Stadium.
The Dukes improved to 9-0 on the year and 6-0 in CAA play, while the Rams fell to 2-7 and 1-5. It was JMU's 16th straight conference victory, setting a new CAA record. That passed UMass' 50-year old record, set between 1965-67.
QUICK HITS
With the win, the Dukes picked up their ninth straight road, and extended their CAA-record and Division I-leading win streak to 21 games.
Bryan Schor threw three of his four touchdown passes in the second half, as JMU outscored the hosts 31-0 over the final 30 minutes. He was 14-of-17 for 150 yards on the afternoon.
JMU limited URI to only 18 yards in the second half, while scoring on each of its first five drives of the second stanza.
Four different receivers caught a touchdown pass, led by redshirt senior receiver Terrence Alls, who had five receptions for 73 yards and a score. It was Alls' first score of 2017.
Freshman running back Piercy Agyei-Obese led the Dukes in rushing with 95 yards (9.5/carry), which included a career-long 40 yarder. Senior Taylor Woods was also solid with 75 yards on the ground (6.2/carry).
Ethan Ratke hit a career-long 42-yard field goal late in the third to give the Dukes a 24-3 advantage at the end of three quarters.
Redshirt senior safety Raven Greene tallied his 12th career interception in the fourth quarter, and is now tied for third all-time at JMU with Dean Marlowe.
JMU now leads Rhode Island 10-3 in the series record with its eighth straight win over the Rams, and the Dukes are now 4-2 when traveling to Kingston.
SWARMING THE BACKFIELD, SHUTTING DOWN THE RUN
JMU accumulated 8.0 tackles for loss and 7.0 sacks, holding Rhode Island to only 143 yards (18 in the second half). JMU limited URI to only 29 total rushing yards and swarmed the hosts to -13 rushing in the second half.
Senior linebacker Brandon Hereford led JMU with eighth tackles and a 0.5 tackle for loss, to go with a fumble recovery.
Redshirt senior defensive lineman Andrew Ankrah had five stops, including 2.5 for loss and 1.5 sacks. He is now tied for sixth all-time at JMU with 24.5 career sacks – matching Kevin Winston.
Redshirt senior Simeyon Robinson also had 1.5 sacks, while three others had at least 1.0 sack.
SCHOR NOW THIRD PLACE IN PASSING
Schor added 150 yards to his career ledger, and now sits at 5,670 career passing yards.
He passed Vad Lee for third place all-time at JMU and extended his own JMU record, with 57 career touchdown passes.
Schor is only 300 passing yards shy of second place and just over yards off the career record.
WHAT THE WIN MEANS
Broke CAA record for most consecutive conference wins, at 16
Extended CAA-record and NCAA DI-best win streak to 21 (tied 5th in FCS history)
22nd straight win over FCS opponent
17th consecutive regular-season win
UP NEXT
JMU returns home to host rival Richmond on Saturday, Nov. 11 for Senior Day. Kickoff is set for 3:30 p.m. from Bridgeforth Stadium/Zane Showker Field, and the game will be televised on MASN2. It can also be heard on the JMU/Sprint Broadcast Network, with pregame coverage starting at 2:30 p.m.