Herring Files Suit to Protect Women's Access To Contraception Coverage
Posted:
Updated: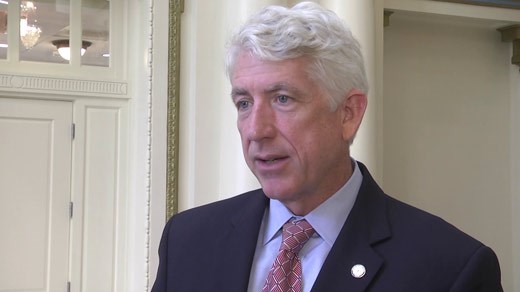 Attorney General Mark Herring (FILE IMAGE)
11/02/2017 Release from the Commonwealth of Virginia Office of the Attorney General:

RICHMOND (November 2, 2017) - In an effort to protect women's access to contraception coverage, Attorney General Mark R. Herring announced today that he filed a lawsuit against the Trump administration for its decision to undermine the contraception coverage rule created under the Affordable Care Act.

The contraception coverage rule allowed 1.6 million women in Virginia to access contraception without a co-pay, saving an average of $255 per year.

"Women should have the freedom to make their own healthcare decisions, especially when it comes to something as personal as reproductive health. Virginia women deserve access to contraception coverage, and no woman should see her reproductive health decisions put in the hands of her employer," said Attorney General Mark Herring. "I'm taking action because President Trump's move to rollback contraception coverage is dangerous, discriminatory, and illegal. I am committed to protecting affordable contraception coverage, and I hope all Virginia women know I am a strong ally in this fight."

Attorney General Herring and his fellow state attorneys general filed suit in the Northern District of California challenging President Trump's decision to roll back the contraception coverage mandate. The suit claims, in part:

"Ensuring women access to preventive health care, including contraception, is a key element in safeguarding women's overall health and well-being, and is therefore a critical component of the States' public health interests... Millions of women across the nation may be left without access to contraceptives and contraceptive counseling, leaving the States to shoulder the additional fiscal and administrative burdens as women seek access for this coverage through state-funded programs, and the public health consequences if women are unable to gain that access."

For millions of women the contraception coverage rule has reduced their healthcare costs, helped address medical conditions, and allowed them to make their own decisions about when and if to have children.

Before the contraception coverage rule, birth control accounted for 30-44 percent of a woman's out-of-pocket healthcare costs. Now, 62 million women across the country, including 1.6 million women in Virginia, have access to contraception without a co-pay, saving an average of $255 per year for oral pill contraceptives, and the percentage of women who have a co-pay for contraception has fallen from more than 20 percent to less than four percent.

Joining Attorney General Herring in the suit are attorneys general from California, Delaware, Maryland and New York. Additional suits are pending in courts around the country.