Trump Declares Public Health Emergency, Senators Introduce Bill on Opioid Crisis
Posted:
Updated: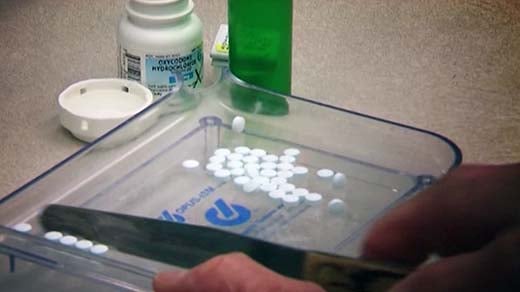 CHARLOTTESVILLE, Va. (WVIR) -
Sen. Tim Kaine (D-VA) is among a group of senators introducing a bill to help fight the opioid crisis.
The "Combating the Opioid Epidemic Act" would invest $45 billion into prevention, detection, surveillance and treatment. That would include nearly $5 billion for substance abuse programs in individual states from 2018 through 2027.
Thursday, President Donald Trump officially declared the opioid crisis a "public health emergency."
Release from Office of Sen. Tim Kaine:
U.S. Senator Tim Kaine (D-VA), a member of the Senate Health, Education, Labor, & Pensions (HELP) Committee, joined U.S. Senators Bob Casey (D-PA) and Ed Markey (D-MA) to introduce the Combating the Opioid Epidemic Act, which would invest $45 billion for prevention, detection, surveillance and treatment of opioids and opioid addiction. This legislation would address a number of the critical shortcomings in the approach to combating the opioid epidemic, including the Trump Administration's unwillingness to make a long-term investment in the fight.
"We need to see real action to back up the promises we've heard when it comes to the opioid epidemic. We have seen staggering numbers released recently showing how devastating the crisis is in Virginia, and we must take action to help Virginia communities treat and rehabilitate people suffering with addiction," Kaine said. "The funding from the Combating the Opioid Epidemic Act would go where it's needed most: to the state and local governments that are on the frontlines fighting this crisis."
The Combating the Opioid Epidemic Act would:
- Authorize and appropriate $4,474,800,000 for substance abuse programs for the individual states for each of fiscal years 2018 through 2027.
- Build upon bipartisanship by adding this funding to the Account for the State Response to the Opioid Abuse Crisis, which was created by the 21st Century Cures Act. The 21st Century Cures Act passed the Senate with 94 votes.
- Expand the use of funding already allowed under 21st Century Cures, so that states may also use this money for detection, surveillance and treatment of co-occurring infections, as well as for surveillance, data collection and reporting on the number of opioid overdose deaths.
- Promote research on addiction and pain related to substance abuse, and authorizes and appropriates $50,400,000 for each of fiscal years 2018 through 2022. Under the bill, the National Institutes of Health would be responsible for distributing this money.
- Provide stable, long-term funding, a total of $45 billion over ten years to the states and over five years to research efforts. This is similar to the stable, long-term investment that Senate Republicans proposed as a response to the opioid emergency.
- Not replace coverage for treatment under Medicaid or the treatment requirements for private insurance in the Affordable Care Act. Both of these remain critical for combating the opioid abuse epidemic.
The Combating the Opioid Epidemic Act has been endorsed by American Psychiatric Association, American Society of Addiction Medicine, Coalition to Stop Opioid Overdose, International Nurses Society on Addictions (IntNSA), National Association of Clinical Nurse Specialists, National Association of County and City Health Officials, National Association of Social Workers, National Council for Behavioral Health, National Health Care for the Homeless Council, National Safety Council, Treatment Communities of America, and Young People in Recovery.
The bill is also co-sponsored by Dianne Feinstein (D-CA), Bob Menendez (D-NJ), Sherrod Brown (D-OH), Amy Klobuchar (D-MN), Jeanne Shaheen (DNH), Al Franken (D-MN), Tammy Baldwin (D-WI), Martin Heinrich (D-NM), Angus King (I-ME), Elizabeth Warren (D-MA), Maggie Hassan (D-NH), and Kamala Harris (D-CA).
Release from Office of Attorney General Mark Herring:
- Attorney General Mark R. Herring released the following statement on President Trump's declaration of a public health emergency:
"President Trump's decision today to declare a public health emergency is certainly a step in the right direction. Additional flexibility for treatment options, education of medical professionals, and a crackdown on illicit fentanyl online and through the mail are all positive developments that I have encouraged. Unfortunately, President Trump's announcement today does not go far enough, and does not provide much-needed funding at a time when we need every resource available to combat this crisis. Senate Democrats recently proposed $45 billion in federal funding to combat the opioid crisis, and I hope Washington acts quickly to get this funding to the communities that need it most.
"There is so much more that needs to be done, and there is action we can be taking right now to help ensure no other family has to deal with the loss of a loved one to an opioid overdose. We must work to increase access to treatment for those struggling with addiction and the General Assembly can help do that in Virginia by expanding Medicaid. Pharmaceutical companies and the medical community need to recognize their responsibility and role in turning this problem around, and there should be consequences if they have contributed to or prolonged the problem.
"As Attorney General, I'm working to combat the epidemic in Virginia using a comprehensive approach that pairs enforcement with education, prevention, and legislation. We've increased prosecutions of drug traffickers, expanded the availability of naloxone, and implemented award-winning education and prevention programs. Everyone has a role to play in combating this epidemic, and I hope to see a sustained commitment from the Trump administration that shows they know just how serious this crisis is."
Attorney General Herring has made combating the heroin and prescription opioid epidemic a top priority, attacking the problem with a multifaceted approach that includes enforcement, education, prevention, and legislation to encourage reporting of overdoses in progress, expand the availability of naloxone, and expand access to the Prescription Monitoring Program. He has supported federal efforts to improve the availability of treatment and recovery resources and made prescription drug disposal kits available across the Commonwealth. Attorney General Herring recently outlined his recommended next steps for combating the crisis, focusing on law enforcement initiatives, support from the medical community, and recovery, treatment, prevention and education.
Release from Office of Rep. Tom Garrett:
Congressman Tom Garrett (R-VA), Member of the House Homeland Security Committee, today issued the following statement on President Trump's decision to declare the opioid crisis public health emergency:
"To stay ahead of threats to the homeland, America must continue to evolve and improve our national defenses to ensure we are one step ahead of the dangers facing our nation. This week, I was proud to support the INTERDICT Act (H.R. 2142) when it passed the House. This legislation would improve the ability of U.S. Customs and Border Protection to protect our country from the influx of fentanyl, a deadly synthetic drug accelerating the tragedy of the opioid crisis."
"The opioid epidemic is having devastating effects on Virginians, where nearly twice as many died from drug overdoses than from car accidents last year, alone. Similar statistics played out across the country in 2016 -- roughly 59,000 people died from drug overdose deaths, the largest annual increase ever recorded in the United States."
"President Trump showed true leadership in declaring the opioid crisis a public health emergency. I stand ready to work with the Administration and my colleagues in Congress to continue addressing the opioid crisis the right way: through reasonable legislation passed by Congress, rather than by executive fiat."